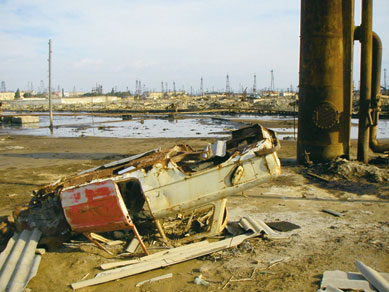 Oil drives the world economy. It is responsible for countless products in our every day lives, is the basis on most industry and transport, and it is running out - perhaps sooner than we might imagine. And when it does, not being able to put petrol in our cars will be the least of our problems.
This incisive documentary cuts to the core of the impending oil crisis. Interviews with industry leaders and energy experts paint a vivid picture of a world in denial about the direct consequences of its short-term energy policies. Exposing the extent of the world's reliance on a rapidly dwindling source of non-renewable energy, Oilcrash is an urgent wake-up call for a world that, if it continues its oil addiction, will soon experience monumental social and political consequences, including the end of the airplane industry and mass starvation.
Director Ray McCormack will introduce the session on Sunday 6 August, 1pm at ACMI and on Friday 11 August, 5pm at ACMI.
---
D/P/S Ray McCormack, Basil Gelpke WS Cinetic Media TD 35mm/2006/90mins Ray McCormack was born in Dublin, Ireland, in 1957.
His films include Welcome to the Cheapseats (1992). Basil Gelpke was born in Basel, Switzerland, in 1962. His films include The Artificial Paradise (1991, TV doco).