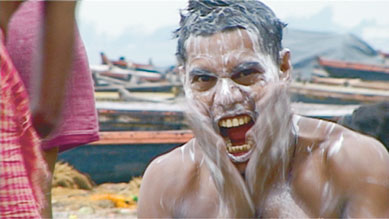 Flying in the face of popular clichés of a Shangri-la-like Tibet is the errant monk, Gendun Choephel. In 1934, Choephel rejected his monastic life in search of new lands and challenges where he formed a conviction about the importance of Tibet's engagement with the world and modernity. An outsider who was always open to new things, he eventually became a stranger in his homeland and homeless in foreign lands - a persecuted wanderer between worlds.
Essentially a road movie, filmmaker Luc Schaedler's recreation of Choephel's journeys oscillates between tradition and modernity through archival footage, interviews with contemporaries and current depictions of the settings of Choephel's life. What Schaedler succeeds in resurrecting is a hard-drinking and sexually voracious lover of life whose progressive thinking positioned him as a symbol of hope for a free Tibet. Screened at this year's Sundance Film Festival.
---
D/P/S Luc Schaedler WS Wide Management L Tibetan, English TD 35mm/2005/97mins
Luc Schaedler was born in Zurich, Switzerland, in 1963. His films include Made in Hong Kong (1997).