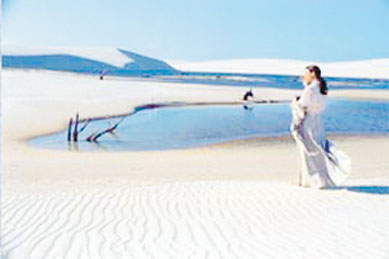 "The physical, emotional and cosmic unite in Andrucha Waddington's powerful The House of Sand… magnificently renders a fresh view of life on planet Earth." - Variety
This epic drama plays out on the sandy plains of northern Maranhão where three generations of women live out a story filled with profound emotions, from despair to fulfilment. They grapple to find their place amidst the encroaching desert and the relentless march against time. Real-life mother and daughter - and two of Brazil's most widely regarded female actors - Fernanda Montenegro and Fernanda Torres, share the roles of the main characters as they age and mature, and new are characters introduced, over the 59 years of the film's narrative.
"Dessicated desert textures permeate the senses as marvellous performances from Montenegro and Torres place human intensity at center stage. The House of Sand is a profound portrait of passing generations and establishes Waddington as one of the most exciting directors in Brazil today." - Sundance Film Festival
---
D Andrucha Waddington P Andrucha Waddington, Leonardo Monteiro de Barros, Pedro Guimaraes, Pedro Buarque de Hollanda S Elena Soárez WS Fortissimo Films L Portuguese w/English subtitles TD 35mm/2006/115mins
Andrucha Waddington was born in Rio de Janeiro, Brazil, in 1970. His films include Gêmeas (1999) and Eu, Tu, Eles (2000).