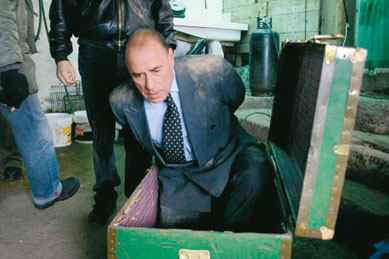 Bye Bye Berlusconi! screened at this year's Berlin Film Festival where it was a multi-award winner.
Thoroughly scrambling make-believe with reality, German director Jan Henrik Stahlberg has concocted an outrageously inflated and hilarious satire that effectively opposes one of the most powerful men in Europe - Italy's infamous former prime minister, Silvio Berlusconi.
Essentially a fake documentary, scenes alternate between a no-budget film shoot hounded by the authorities and a fictional film-within-a-film about a terrorist cell that kidnaps Berlusconi and puts him on trial via the Internet (director Stahlberg even appears on screen as the film director). Acting laurels must go to Maurizio Antonini for impersonating an irate Berlusconi.
Films critical of Berlusconi are virtually non-existent - until now. As others have discovered, displeasing him can result in your TV show cancelled and career put on ice while battling ongoing legal action. This film, therefore, acts as an ambitious and bold statement on free speech by its filmmakers, as well as a genuine attempt to see the prime minister kicked out of office.
---
D Jan Henrik Stahlberg P Martin Lehwald S Lucia Chiarla, Jan Henrik Stahlberg WS Arri Media Worldsales L Italian w/English subtitles TD 35mm/2006/90mins
Jan Henrik Stahlberg was born in Neuwied, Germany, in 1970. Bye Bye Berlusconi! (2006) is his feature film directing debut.