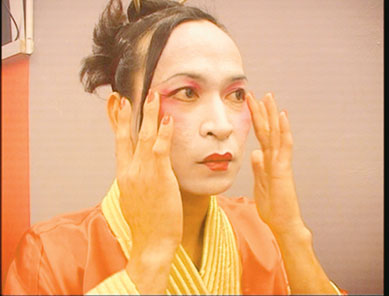 "Transsexual caregivers for Tel Aviv's elderly might sound like an odd topic for a documentary but Paper Dolls is as straight as it is orthodox." - Variety
Distilled from a six-episode Israeli television series, this documentary focuses on marginalised foreign workers who fill a large hole in the Israeli job market as caregivers. In particular, a quintet of Filipino immigrants compensate for the drudgery of their nursing home employment by whooping it up and lip-synching songs as The Paper Dolls at a gay nightclub.
Immersing himself in their lives, filmmaker Tomer Heymann probes behind the wigs and makeup to expose displaced individuals who, despite rudimentary routines, possess grand aspirations to be performers. With the Israeli government seeking to expel foreign workers, deportment could be possible and the quintet's sense of belonging to their adopted land is revealed.
Bagged three awards - including an Audience Award - at this year's Berlin Film Festival.
---
D/P/S Tomer Heymann P Claudia Levin, Stanley Buchthal WS The Film Sales Company L English, Hebrew, Tagalo w/English subtitles
TD 35mm/2006/84mins
Tomer Heymann was born in Tel Aviv, Israel, in 1970. His films include Tomer Ve-Hasrutim (2001, short feature doco), It Kinda Scares Me ((MIFF 2002) and Aviv (2003, doco).