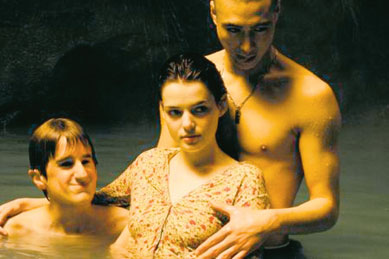 "A foxy young temptress, a trio of horny guys, a creepy rural manse and a slightly demonic caretaker are the classic building blocks that get reassembled French-style in Sheitan." - Variety
Combining anarchic, knockabout comedy with nerve-shredding suspense, jet-black humour and gut-wrenchingly bloody horror, Sheitan is not for the faint at heart.
In a Paris nightclub on Christmas eve, a group of hot-blooded young men meet a couple of gorgeous girls who invite them to spend the weekend at a remote country holiday house. Of course, the fellows accept this generous offer but they are unprepared for what greets them - some menacing caretakers and a series of diabolical circumstances that ensue as Christmas day rapidly approaches.
Kim Chapiron, who marks his feature film directing debut with Sheitan, is a member of Kourtrajmé, a loose collective of vibrant, cutting-edge French filmmakers championed by Vincent Cassel, who also produces the film and stars in the sinister role of the caretaker.
Contains scenes that may offend.
Director Kim Chapiron is a guest of the festival and will introduce the session on Monday 31 July, 9pm at Forum Theatre. A Q&A session will follow the screening.
---
D Kim Chapiron P Vincent Cassel, Éric Névé S Christian Chapiron, Kim Chapiron WS Wild Bunch L French w/English subtitles
TD 35mm/2005/95mins
Kim Chapiron's films include La Barbichette (2002, short).