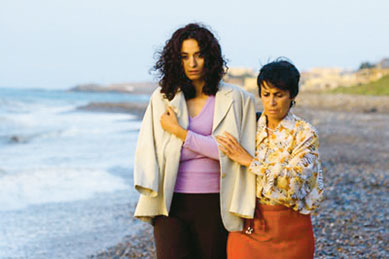 Anchored by a pair of magnificently intense lead performances, Barakat! is a women's story set in a country wracked by violence.
Filmmaker Djamila Sahraoui takes us to an Algerian coastal village in the 1990s and introduces us to two women: Amel, a young emergency doctor, and the 60-something nurse Khadidja. Returning from the hospital one morning, Amel is devastated when she realises that her journalist husband Mourad has disappeared. She receives information on his whereabouts, the hilltop hideout of an underground Islamist group. She and Khadidja go to retrieve him. In the face of perilously risky circumstances, they steadfastly refuse to accept their predicament or submit to the gnarled grip of Algeria's turbulent past.
"In my film, from the beginning, I did not want to show imprisoned, subservient women, as one sees so often in Algerian films, nor unrealistic heroines who deny themselves in the name of history. I wanted to portray women who are in motion - and of course this motion influenced the film's form. They move forward despite all obstacles…" - Djamila Sahraoui
---
D/S Djamila Sahraoui P Richard Copans, Dora Boughoura S Cécile Vargaftig WS Wide Management L French, Arabic w/English subtitles
TD 35mm/2006/97mins
Djamila Sahraoui was born in Algeria in 1950. Her films include Algérie, la vie Quand Méme (1998, doco) and And The Tree Grows in Kabylie (2003).