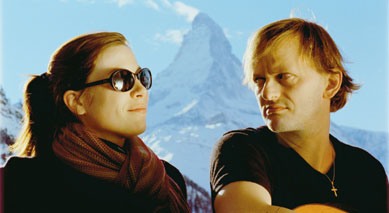 With a sweeping grandeur and the elemental passion and curiosity we've come to associate with Werner Herzog, director Thomas Imbach's Lenz creates an unconventional portrait of a tortured visionary caught between euphoria and desperation.
Lenz is also a playfully ironic version of the Georg Büchner novella, just as it originally was loosely based on the life of the eponymous mad German poet.
We meet Lenz, a filmmaker, as he arrives at a Swiss alpine resort, where he hopes to see his nine-year-old son again. With his son's help, he arranges a meeting with ex-wife Natalie whom he still loves. A little idyll blossoms in the rediscovered closeness to his son and rekindled love for Natalie but the illusion of happy family life is short-lived, soon overshadowed by Lenz's behaviour, which grows ever stranger.
Film and intimate video, staging and improvisation, actors and amateurs, tender love story, slapstick comedy and grand narrative - Imbach blends seeming opposites into an organic whole. An unconventional, stormy portrait of a man whose life motto echoes the Romantic poets: genius writes its own rules.
---
D/P/S Thomas Imbach P Karl Baumgartner, Madeleine Hirsiger
WS Swiss Films L German w/English subtitles TD 35mm/2006/95mins
Thomas Imbach was born in Lucerne, Switzerland, in 1962. His films include Well Done (1994) and Happiness is a Warm Gun (2001).