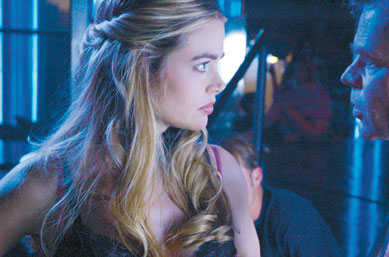 Celebrated playwright David Mamet pulls no punches in this incendiary tale of social paranoia. William H. Macy steps up to the plate as a disgruntled businessman who throws his tedious existence to the wind, only to be caught in the turbulence and violence of 'real life'. His bad attitude, stinginess and single-minded quest to 'get laid' sees him robbed, beaten, humiliated and, basically, left at rock bottom.
Filmmaker Stuart Gordon, best known for the cult horror classic Re-animator, transforms Mamet's play into an unnerving cinema experience, thanks to the strength of Macy's performance and the supporting cast of Julia Stiles, Joe Mantegna, Mena Suvari and Denise Richards. Described as having "enough sex and violence to make the boys of Glengarry Glen Ross blush like nuns in a strip club", Edmond pushes the title character's loss of social boundaries in head-spinning ways. This is provocative cinema sure to kick-start dinner table conversation.
---
D Stuart Gordon P Chris Hanley S David Mamet WS Wild Bunch TD 35mm/2005/82mins
Stuart Gordon was born in Chicago, USA, in 1947. His films include Re-animator (1985), From Beyond (1986), Dolls (1987), Fortress (1993) and Dagon (2001).