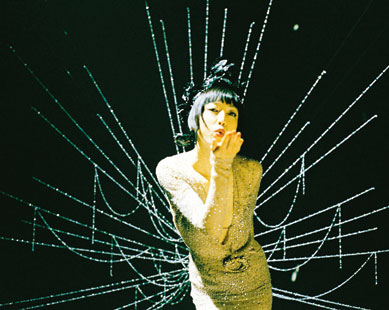 A quartet of moody J-horror-updating yarns, Rampo Noir is inspired by the stories of early 20th century mystery writer Taro Hirai, who published under the name Edogawa Ranpo, a play on Edgar Allen Poe.
This highly stylised package is as visually stunning as its storylines are disturbing. Each creepy segment gets a work-over by a different director from Japan's indie scene.
Linking the four is charismatic, uber-star Asano Tadanobu, widely reagrded as Japan's answer to Johnny Depp. Mars's Canal features him as a naked man recalling a violent sexual encounter. In Mirror Hell, he's a detective faced with a series of chemically mutilated corpses. He returns as the same detective in Caterpillar, detailing the relationship between a sexually sadistic woman and her husband, a deformed and limbless war veteran. And, in Crawling Bugs, he's a shy and dermatologically challenged chauffeur who succumbs to violent jealousy after falling in love with his employer.
Sinister and eerie, Rampo Noir is at the very least intriguing and a wild ride into contorted psyche and obsession.
---
D Akio Jissoji, Atsushi Kaneko, Hisayasu Sato, Suguru Takeuchi P Dai Miyazaki Dist Siren Visual Entertainment L Japanese w/English subtitles TD DVD/2005/134mins