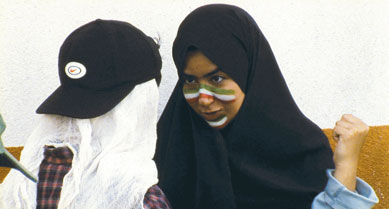 Offside was the winner of the Silver Bear award at this year's Berlin Film Festival.
For almost three decades, Iranian soccer players have been cheered almost exclusively by men. Female fans, banned from stadiums after the Islamic revolution, have been forced to reconcile themselves with watching the games on television.
This situation is the basis for Jafar Panahi's telling comedy Offside, in which several women caught trying to sneak into an Iran versus Bahrain World Cup qualifier dressed as men are subjected to a kind of torture: Being forced to sit in a holding pen outside the stadium while they listen to the roar of the crowd inside! The women, desperate for a glimpse of the action, use every trick in the book to find out what's going on in the game, including harassing their clueless captors to stage re-enactments of the play on the field.
In what is a comedic change of pace for Panahi, Offside uses the arena of sport to kick-off an entertaining critique of the constraints placed on women in modern Iranian society.
Director Jafar Panahi is a guest of the Festival and will introduce the screening on Friday 28 July, 7pm at the RMIT Capitol Theatre.
---
D/S/P Jafar Panahi S Shadmehr Rastin WS Celluloid Dreams L Farsi w/English subtitles TD 35mm/2006/88mins