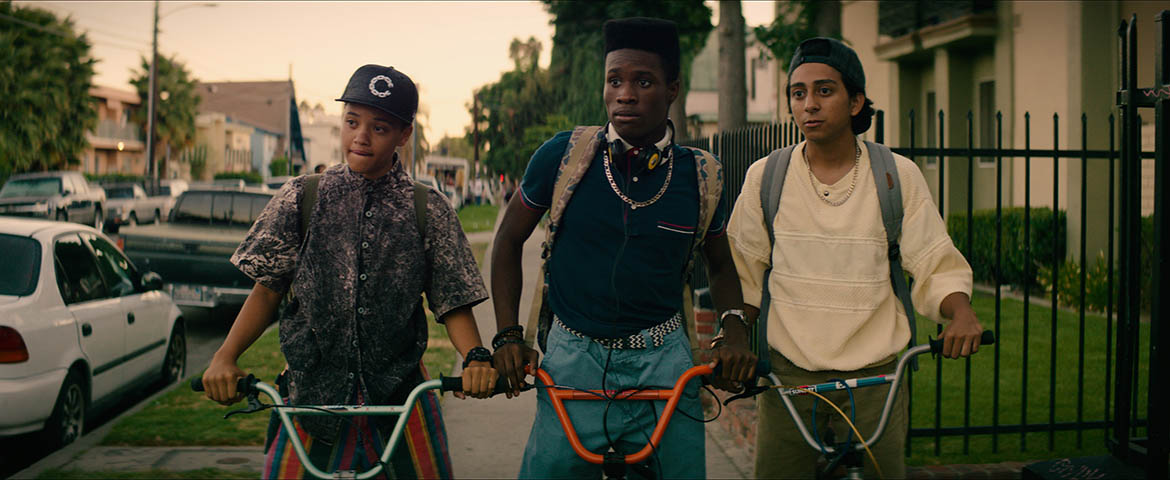 "Funky fresh, funny, complex and uncompromising, Dope … [exists] somewhere between Juice, Ferris Bueller's Day Off and Spring Breakers." – Mashable
Self-confessed geek Malcolm (excellent newcomer Shameik Moore) lives in one of South Central LA's roughest hoods. A straight-A student who's applying to Harvard, he has a punk band with his two best friends, fellow outcasts Diggy and Jib, and is obsessed with 90s hip-hop and "other shit white people like". But after a night out partying with local drug dealer Dom (musician A$AP Rocky), Malcolm unwittingly winds up in possession of a gun and a trafficable amount of MDMA.
Sparking a heated bidding war off the back of its lavish reception at Sundance, writer/director Rick Famuyiwa's contemporary coming-of-age tale is both a whip-smart, genre-hopping look at everything from race to hyper-connectivity, and a witty, crowd-pleasing journey of adolescent self-discovery. Narrated by Forest Whitaker (who also produced, along with Sean Combs) and featuring four new tracks by Pharrell Williams on a soundtrack otherwise filled with classic rap and hip-hop hits of the 90s, Dope is super fly.
"A coming of age tale for the post-hip hop and social media generation, a black geek picture for the Urkels and Kanye Wests of the world, a crime/drug caper, a comedy, a gettin'-out-of-the-ghetto film, and more, writer/director Rick Famuyiwa's funny and vibrantly realized Dope packs in a lot of movie." – The Playlist