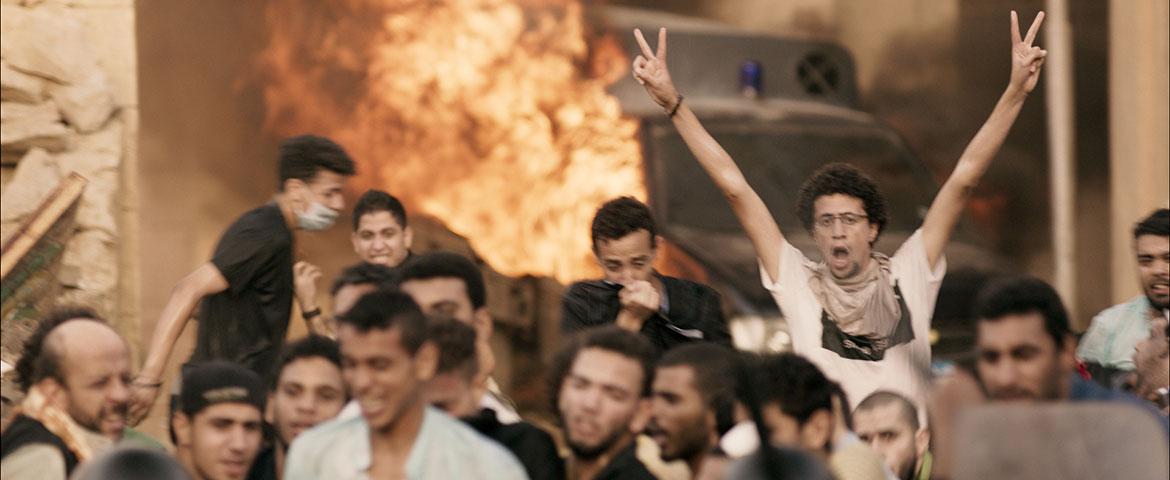 "Powerful and very disturbing … [a] darkly frightening vision of the lawlessness and chaos into which [Egypt] has descended." – Hollywood Reporter
It's two years after the Egyptian Revolution and the country is riven with strife as moderates, Islamists and the all-powerful army slug it out for control of the troubled nation. With Cairo in chaos as demonstrations erupt over the sudden ousting of democratically elected Islamist president Mohamed Morsi, the military begins rounding up protestors.
Set entirely in the back of a police van, Clash brings the multiple forces and seething tensions of the post-revolution landscape into harsh, biting relief, compressing the human tragedy of present-day Egypt into a single, inescapable powder keg of fury and emotion. As the van tours the city, picking up protesters, activists and militants – with no regard for which side of the fight they're on – the space becomes ever more claustrophobic and hyper-charged, fizzing over with the combined hopes, fears and horrors of a world where power justifies any cost.
In his sophomore effort, acclaimed writer/director Mohamed Diab (Cairo 678) has crafted a film of great allegorical force and inventiveness. The Cannes Un Certain Regard opening selection, Clash takes the well-trodden territory of Egypt's political woes and transforms it into cinema of rare mastery, running the gamut from urban thriller to political satire to all-in action film, while building to a conclusion that is shocking, savage and impossible to look away from.