MIFF 1987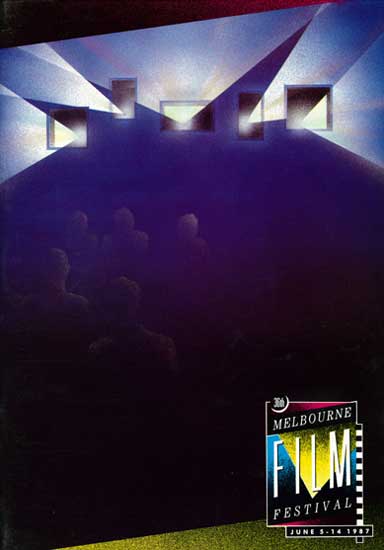 Festival Program
97 feature films and 249 short films were screened from 5 June to 14 June
Full Program
Program in Focus
300 films from over 44 countries comprised the 1987 program. As in 1986, the main festival focus was on gala and special events, Video, Super 8, retrospective and films for children. Coinciding with the 25th anniversary of the festival's inauguration of the short film competition, the number of short films was considerably higher than in previous years, almost tripling in quantity, from three years previous.
Notable films: The Bee Keeper (Theo Angelopoulos), Coming Up Roses (Stephen Bayly), Diary of My Loves (Marta Meszaros), Half of the Sky (Manuel Gutierrez Aragon), Raising Arizona (Joel Coen), Vincent: The Life and Death of Vincent Van Gogh (Paul Cox), Yellow Earth (Chen Kaige), Wings of Desire (Wim Wenders)
Filmmakers in Focus
Veruschka Body, Jean-Pierre Gorin, Teguh Karya, Claude Lanzmann, Tuti Indra Malaon, Sandor Sara and Wim Wenders were guests of the festival.
More
Featured Film
The Journey (Peter Watkins, 1982-86)
More
DIRECTOR'S NOTE
Dear friends of the festival,
I wish to extend a warm welcome to the many friends, who have been our constant patrons since the early years in the fifties. Your support has made the Melbourne Festival the fifth longest running film festival in the world.
I also wish to welcome, those joining us for the first time and feel certain that you will find this a new and exciting experience.
The film festival presents the very best in International Cinema and Video for your enjoyment. The 1987 programme once again offers subscribers the widest possible choice in a showcase representing the work of more than 250 filmmakers from 28 countries. The majority of films being screened over the next ten days will not be seen again in this country.
Last year's innovation of the mini subscription was an overwhelming success. It allowed so many more film lovers, with limited time, to participate in the Festival.
I take this opportunity to thank our international and interstate guests who have travelled to join us. Also to the board of management, the festival office staff and the many committee members and volunteers whose involvement at various levels make the Melbourne Film Festival a reality each year - despite seemingly insurmountable odds.
The festival also gratefully acknowledges the support given by the Australian Film Commission and the State Government, through Film Victoria and the State Film Centre. Our thanks also to the City of Melbourne, the many cultural and corporate organisations who give their generous support, the local film industry and the Hoyts Corporation. It is the continuing assistance of these bodies that ensures the Melbourne Film Festival as a major cultural event.
I hope you have a great time, and look forward to seeing you back next year.
Santina Musumeci
Director
Introduction taken from the 1987 official guide
Santina Musumeci