MIFF 2011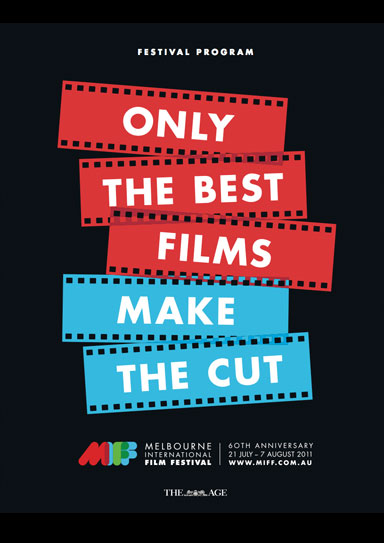 Festival Program
220 feature films and 116 short films were screened from 21 July to 7 August
Program in Focus
The 2011 MIFF program celebrated 60 years of MIFF, delving into the festival's archives to re-present a selection of significant and magnificent films from the previous six decades. In partnership with Film Portal, MIFF introduced a new, ongoing program of acclaimed new filmmaking out of the European Union. Crime Scene was a stream of films exploring the gritty underbelly of society, while Networked provided a cinematic exploration into the changes to society being wrought by the internet. Documentary strand This Sporting Life focussed on those who have driven themselves to the brink of human capacity and the limits of physical endurance, and Our Space returned to present a series of films investigating the achievement, beauty and devastation we create in our urban environment. Meanwhile, Prime Time acknowledged the impact of the small screen, and included the world premiere of the first two episodes of ABC TV drama The Slap. Guest included US filmmakers Morgan Spurlock and Mike Mills, legendary Australian directors Fred Schepsi Richard Lowenstein,and venerated film composer Lisa Gerrard.
Opening Night Film
The Fairy (Fiona Gordon, Dominique Abel, Bruno Romy, 2011)
More
Even as the paths into film viewing diversify, we remain eternally social creatures. Our urge to experience collectively the weird and the brilliant, the shocking and the stunning, the crushing and the inspirational, will never abate. Film festivals offer an unparalleled platform for such heightened intensity, for people to come together to share the transformative experience of cinema. Celebrating its 60th edition in 2011, MIFF is one of the oldest film festivals in the world, yet its cultural vitality and ability to cause a stir have not diminished.
So what better way to mark this dignified milestone than to look back through our history – through discussions and debates, a retrospective film program and a specially curated exhibition. But above all we wish to intervene into the world of today, whether it be by exploring the influence of technology and the internet on our lives, or by casting light onto the day-to-day political and social struggles that continue to shake the world. And this is just the tip of the iceberg.
As films do not exist in a vacuum we are delighted to present Talking Pictures, a suite of discussion panels and masterclasses. And for those not quite obsessive enough to get two weeks off work (and even for those who are!), come down to our celebrated Festival Lounge each weekday from 5.30pm, enjoy a glass of wine or a coffee and sink yourself into Talking Pictures Express, a free program of group discussions to get you in the mood for the evening's viewing.
Whether your thing is sports or samurai, or maybe even Russian ghosts traversing a reindeer-populated Catalan landscape, MIFF 60 has something to surprise you.
Michelle Carey
MIFF Artistic Director
Late last year in an interview with Rotten Tomatoes, while pushing soundbites and pithy anecdotes for Pirates 4 and The King's Speech, I was ambushed into that most daunting game to name, High Fidelity-style, my Five All-Time Favourite Films.
I um'd and aah'd and gave it my best spontaneous shot: … well, Chaplin's City Lights; er, Fellini's Amarcord; have to include Bergman's Persona; oh yeah, definitely Woody Allen's Zelig … and for sure, Sergei Bondarchuk's Russian masterpiece War and Peace.
Each one a visceral, transcendent first-viewing, and yes, all in my formative teens and younger days.
But most significantly I realised I had seen them not in any commercial arena but at a film club, or a Cinematheque and at film festivals, which inspired me to always then seek out comparable highpoints. Hopefully MIFF 2011 will provide you with experiences that also cut deep into your psyche.
I welcome the sharp cinephile mind of Michelle Carey, and her team, who are determined that only the best films make the cut.
Geoffrey Rush
MIFF Patron
Introduction taken from the 2011 official guide