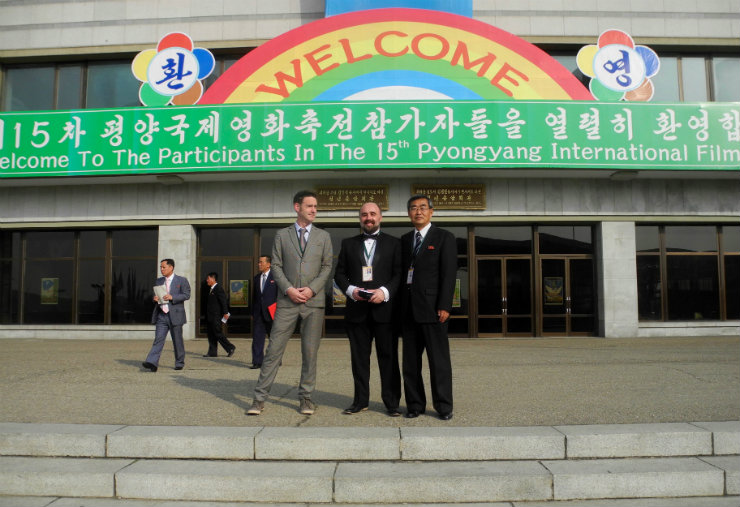 A Glimpse Inside the Pyongyang International Film Festival 2016
MIFF Programmer Al Cossar was invited to be a member of the five person jury at the Pyongyang International Film Festival this year, alongside other representatives from the UK, India, Russia and the DPRK. While tailored specifically to local audiences, the festival also attracted international delegates this year from Sweden, Austria, France, the Philippines and more.
What does a film festival look like in the Democratic People's Republic of Korea? It's a country with more than a vast cultural remove from Australia, but where local audiences similarly lap up the opportunity to see a diverse array of international cinema on their city's screens with great excitement.
The biannual Pyongyang International Film Festival (PIFF), marked its 15th edition in September 2016. PIFF previously broadened its approach to become a true international film festival in 2002 (where previously it had profiled films from "non-aligned and developing countries"), and has even presented some Australian highlights previously - including films that have also featured at MIFF, such as Kim Mordaunt's The Rocket and Ivan Sen's Mystery Road.
This year the festival presented 60 films from 20 countries. Internationally presented highlights included Neeraj Ghaywan's Masaan (a former FIPRESCI winner at Cannes in 2015) from India, and Mirlan Abdykalykov's Heavenly Nomadic, a former winner of the International Competition at Mumbai Film Festival.
Below are photos from the event, taken by Al Cossar, MIFF Programmer.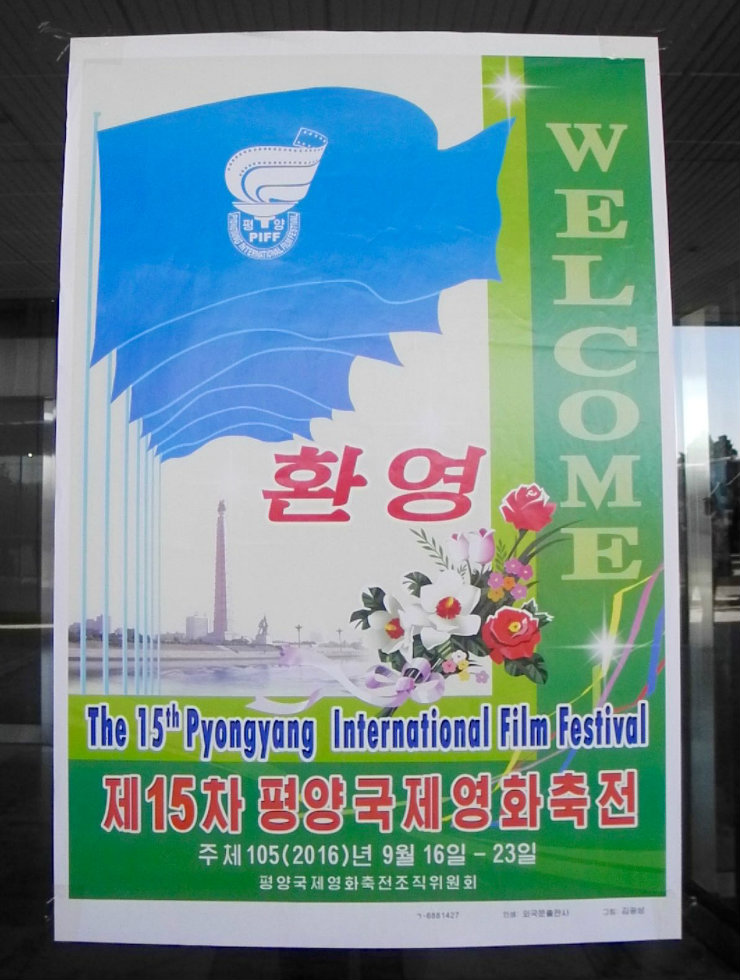 Official welcome poster.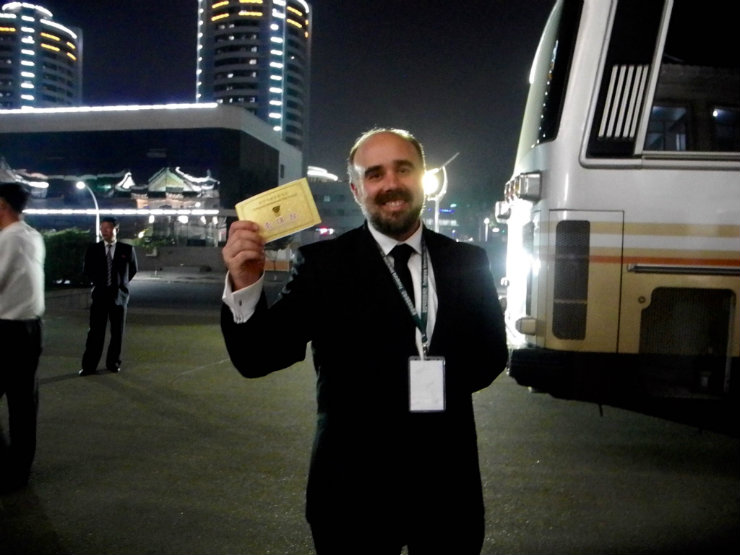 Golden ticket for Opening Night!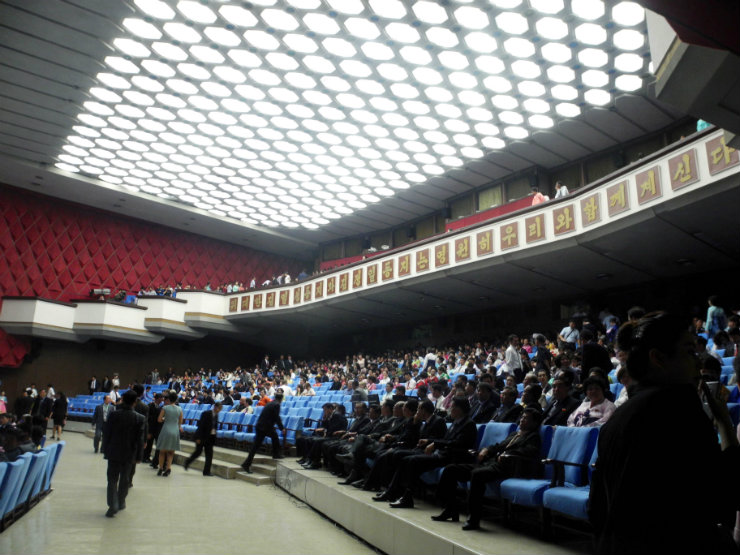 Opening Ceremony auditorium.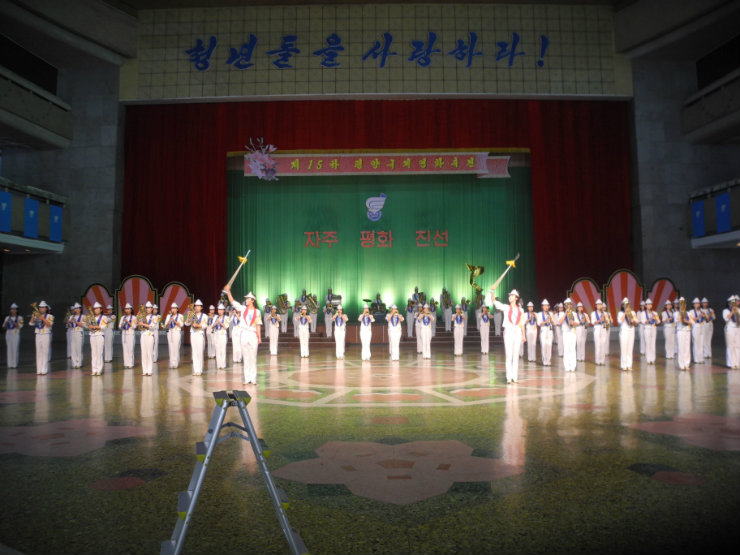 Marching band performing at the Opening Ceremony.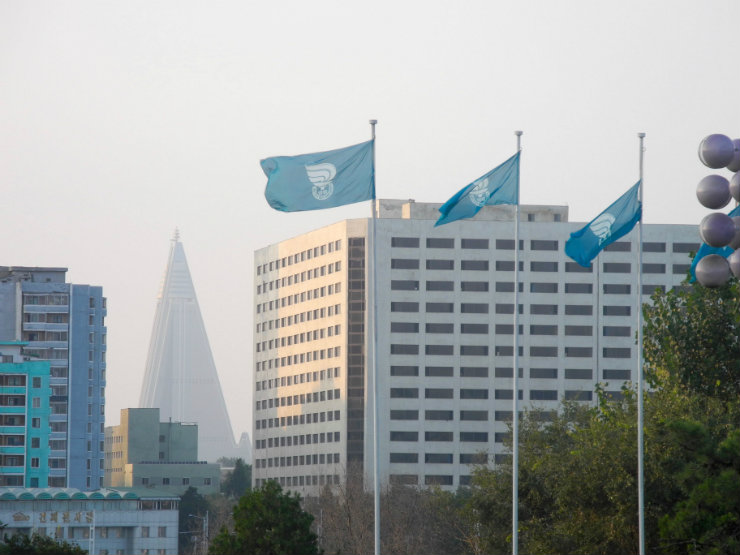 PIFF flags flying in the city.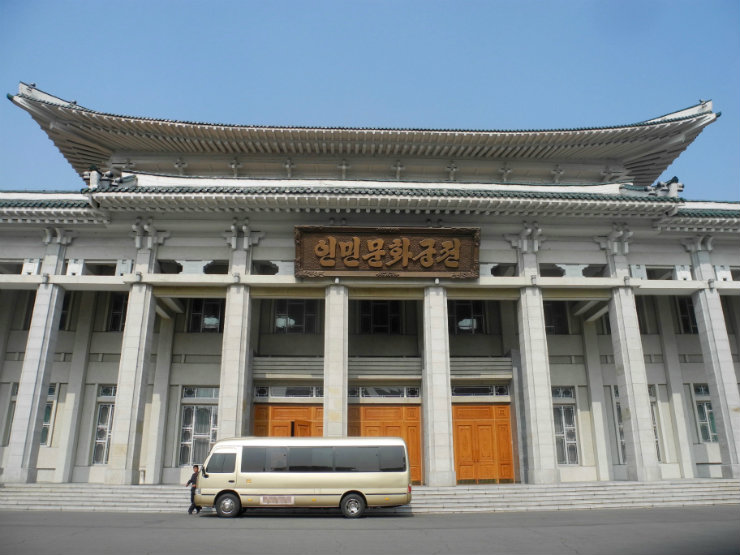 People's Cultural Palace, the location of the Jury Screening Room.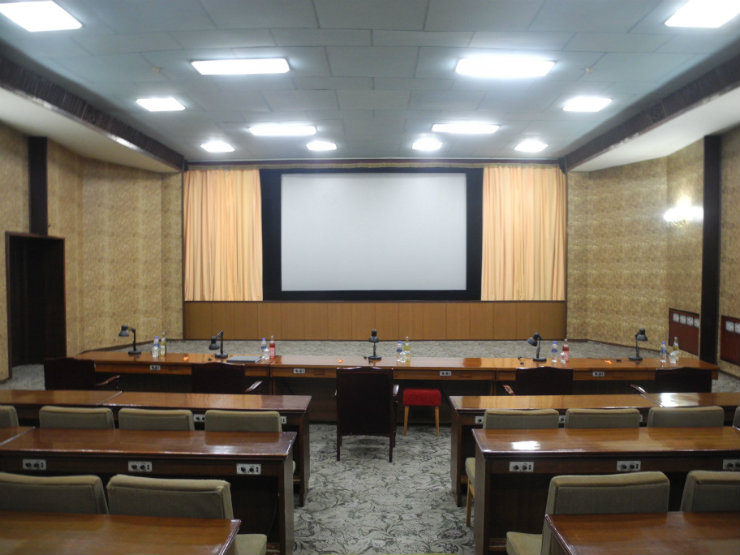 The Jury screening room (complete with individual translation earpieces).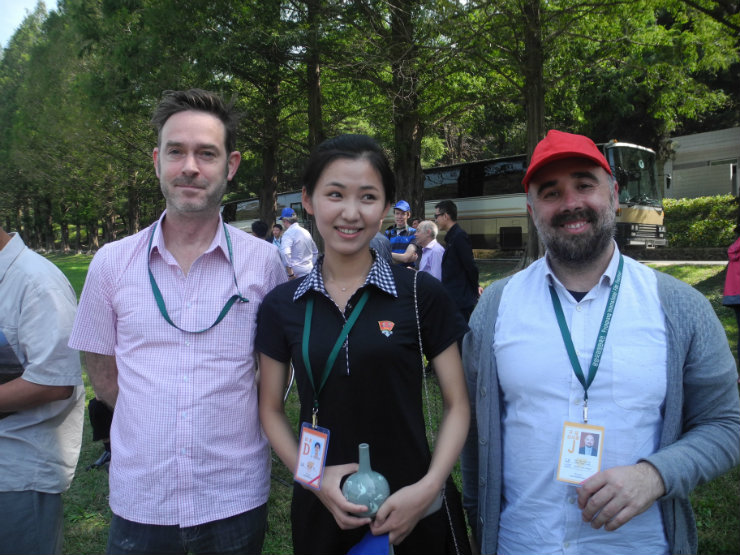 Fellow jury member and Beijing-based UK filmmaker Matt Hulse,lead actress in DPRK film The Story of Our Home, Paek Sol Mi, and MIFF's Al Cossar.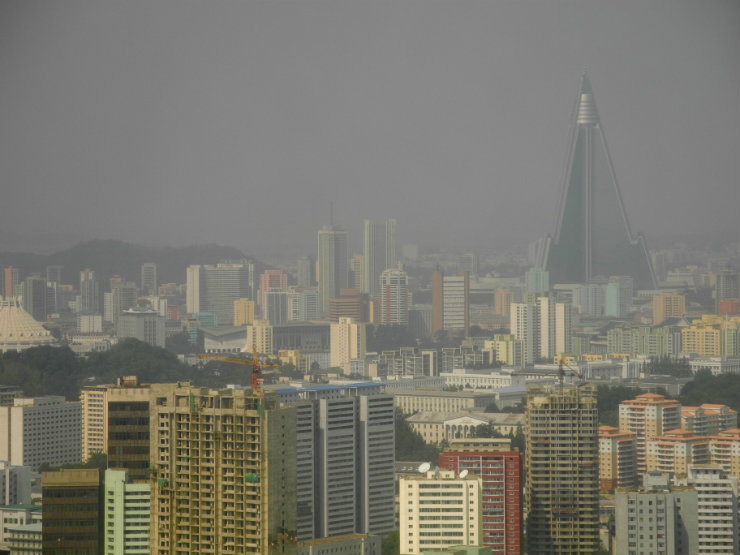 View of Pyongyang city, with the Ryugyong Hotel, a still being constructed 105-story pyramid-shaped skyscraper in the background.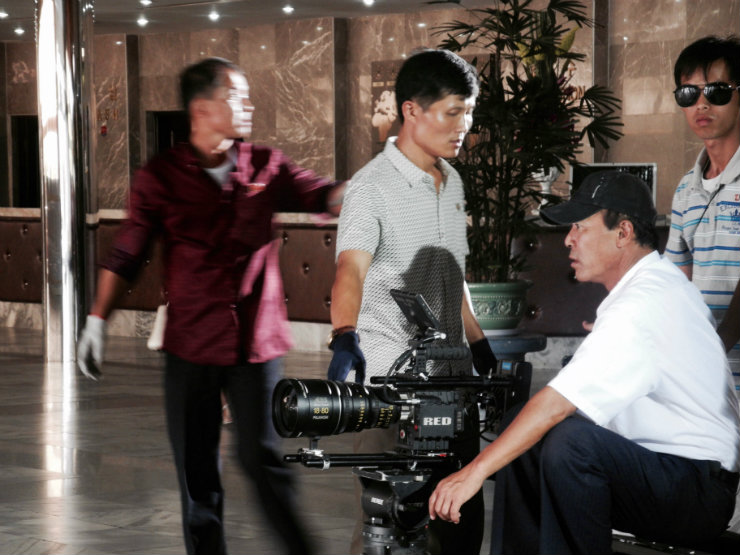 A DPRK film crew shoot in the lobby of the Yanggakdo International Hotel.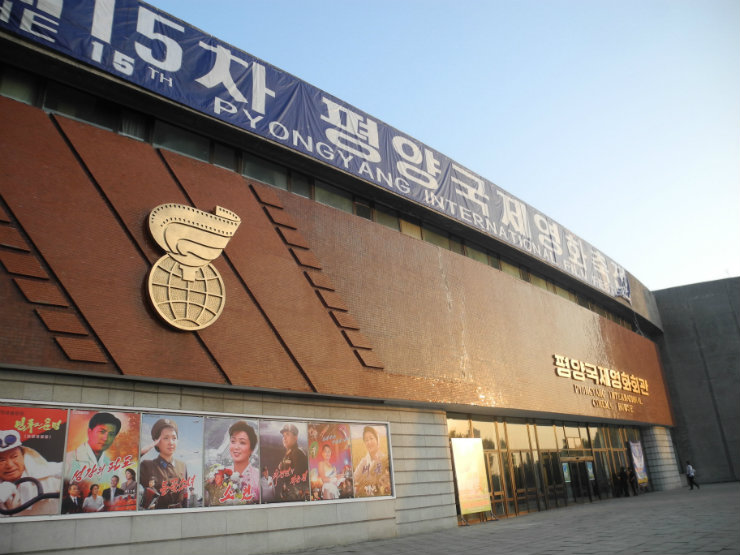 A local cinema.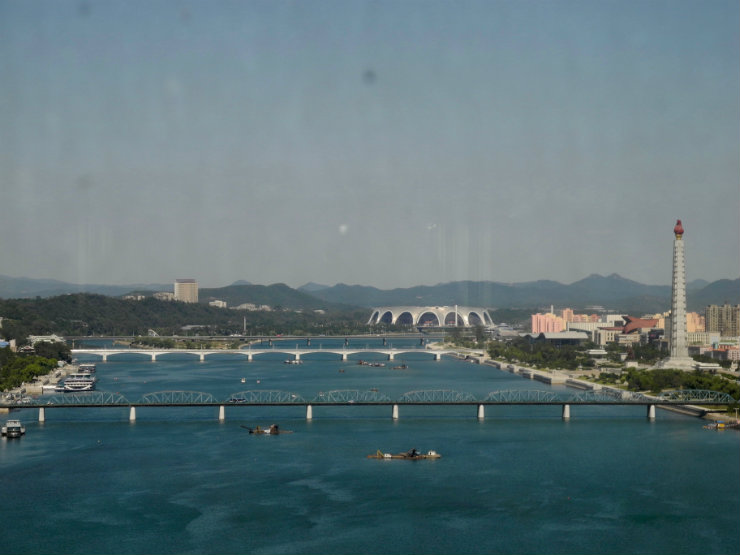 View of the Taedong River.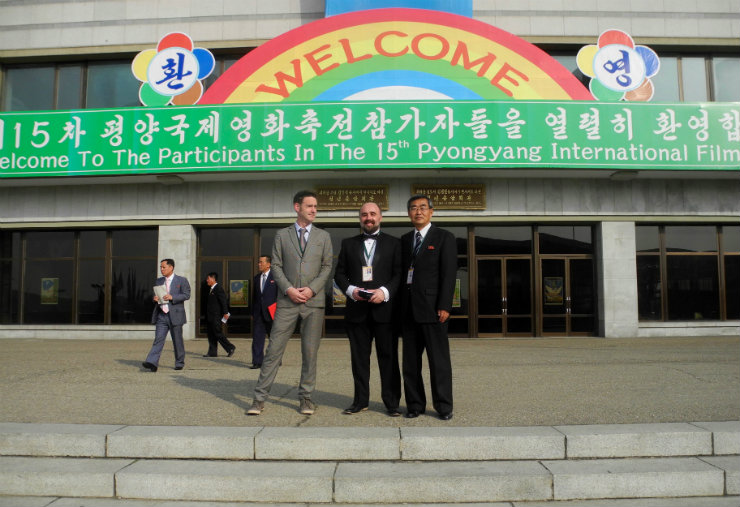 Heading to the Awards presentation at the Closing Ceremony.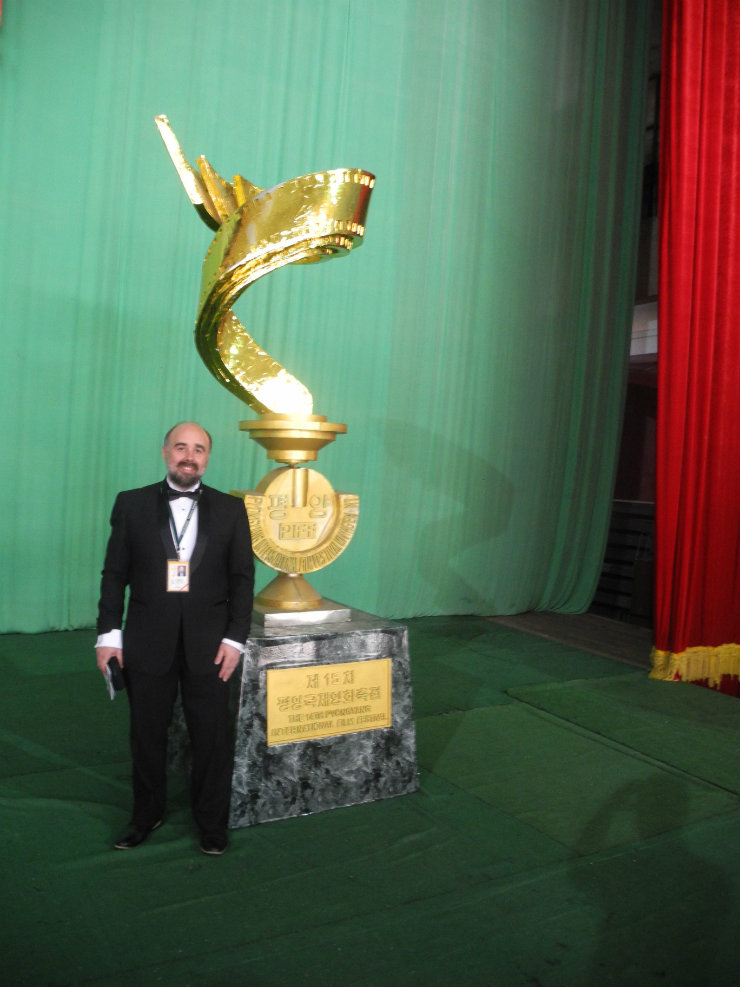 And the award goes to...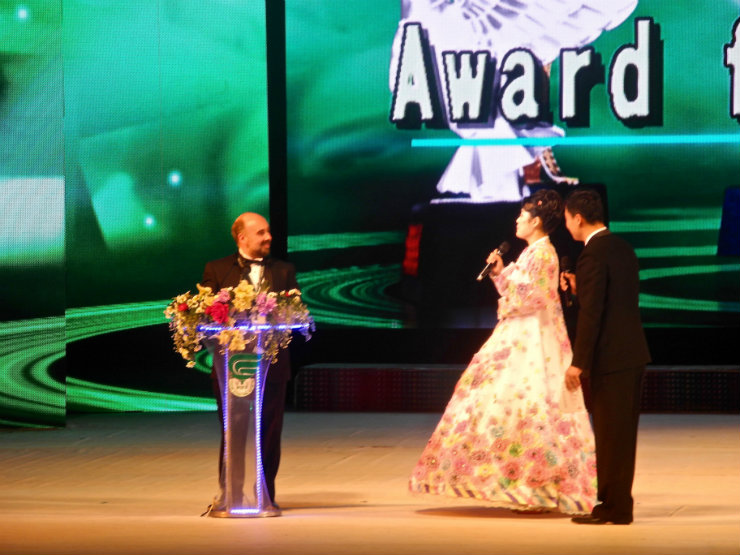 Al Cossar at the Closing Ceremony podium.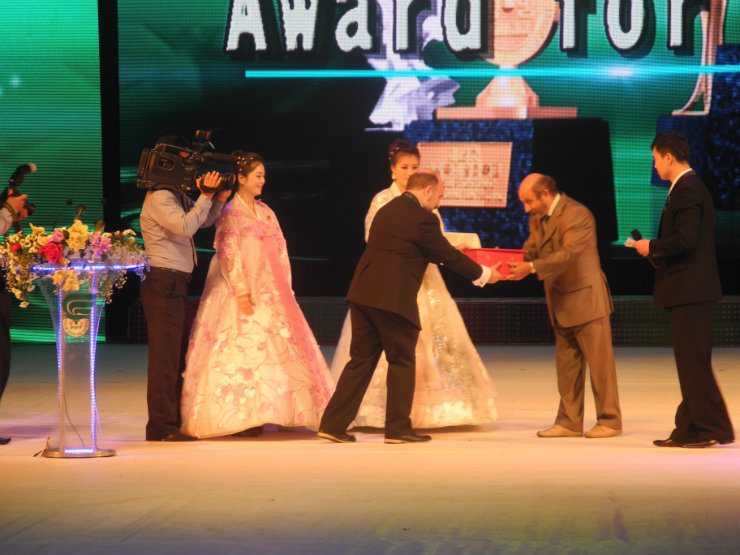 Presenting an award.
Congratulations to the winners!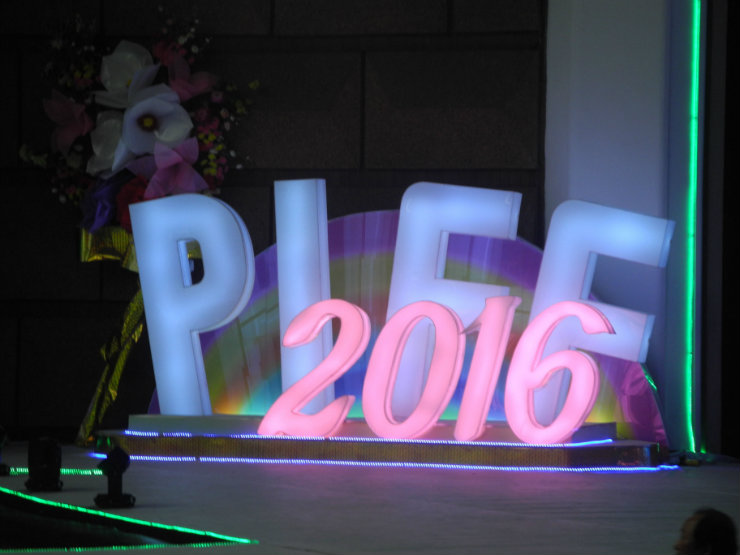 PIFF 2016 comes to a close.
With thanks to Nick Bonner, Simon Cockerell, Vicky Mohieddeen, and the whole team at Koryo Tours. Check out their website or email them at info@koryotours.com for information on how to visit the DPRK, or how you can attend PIFF as an audience member!