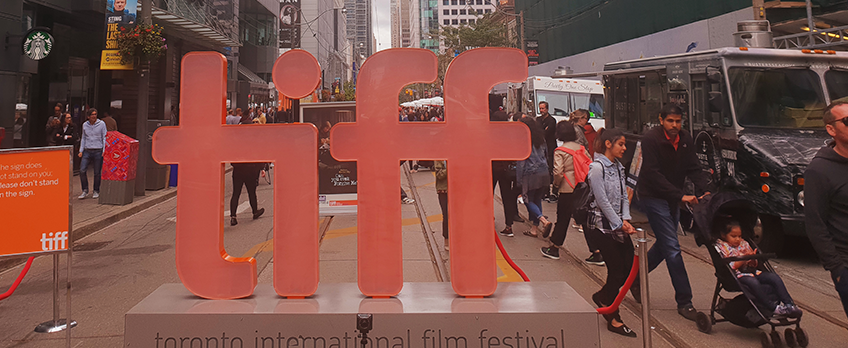 TIFF Report by MIFF's Artistic Director, Al. Cossar
Spring - and many things are cooling down at the office. But it's also a new (and immediate) turn and start for the beginnings of MIFF programming for 2019, and the Toronto International Film Festival (TIFF), coming only a couple of weeks after the conclusion of MIFF, marks the first point of intense and international festival scouting for next year after the reset button has been hit.
The memories I have of the last time I attended TIFF in 2013 - the sunny dispositions of the volunteers (TIFF really is one of the friendliest festivals around), the ingrained tick (not without its charm) of the audience making piratical noises in every screening the anti-piracy cinema ad played pre-feature (never has there been such a sustained, years-long commitment to an in-joke by a group of thousands of people); the charged, almost rock concert like atmosphere of the Midnight Madness crowds are fully intact in this iteration and a familiar welcome back into the fray. Elsewhere, Toronto as a metropolis is functional and friendly, spreading the festival with utilitarian ease across its downtown. Although in terms of other Toronto emblems, maybe I've gotten classier over the intervening years (I suspect not), or my tolerance for cheese curd has diminished (more likely), but poutine within a three-block radius of the industry cinemas remained relatively un-devoured this time around.
My highlights included the long-awaited and finally-arrived Claire Denis film High Life, a savage work of confounding, erotically charged science fiction that prompted both walkouts and five-star reviews (always a brilliant combination) from those in its orbit. László Nemes, who devastated with his extraordinary debut work Son of Saul, a film that did nothing less than find a new way to imagine the unimaginable treachery of the holocaust, returned with Sunset, a film that used some of its precursor's claustrophobia with a mesmerising period epicness attuned to the dark heart of the Austro-Hungarian empire pre-WW1; a film to be seen, hypnotised, troubled by, on the big screen, for sure. RAY AND LIZ, fast becoming a Fall festival standout overseas, saw the revered British photographer debut his first feature to compelling response, expanded and inspired from his iconic series of troubled family portraiture.
Elsewhere Jonah Hill's Mid90s was undoubtedly an easy film to love, and certainly to those whose childhood broke in its titular era - some reviews have approximated its tone as a forthrightly affectionate/sporadically hostile sort of midpoint between Freaks and Geeks and Kids, and while reductive, it's not entirely untrue either. Personally, I was hugely looking forward to Carlos Vermut's follow-up to his MIFF 2014-featured film Magical Girl - for me, a fascinating director that across three features now feels an essential contemporary voice in Spanish cinema. His TIFF entry, Quién te cantará (or by its subordinated English language translation, Who Will Sing to You), finds elements or touchstones of names like Sirk, Almodovar, Haneke, and mixes them into a film with the form of a melodrama and the cold, sleek underside of something else entirely.
Cantará was also strangely one of (count 'em!) six TIFF-featured films this year circling around (aspiring/jaded/amnesiac) female singer-songwriters, from the big populist guns of Bradley Cooper's Lady Gaga-starring A Star is Born, to the breakout Scottish chanteuse -isms of Wild Rose. Former MIFF guest Alex Ross Perry notably returned with Her Smell, featuring Elisabeth Moss as a noxiously obstinate rock-star-off-the-rails, bruisedly deployed with Perry's trademark acerbicness turned up to 11; a bold, sustained attack (that I loved) designed to unsettle, right down to the almost industrial queasiness of its backstage sound design that you feel physically as much as listen to over the film's first 80 or so minutes.
The festival also saw new work from exceedingly and expectedly prolific auteurs such as Hong Sang-soo and Sergei Loznitsa (his latest, a take on a Stalin-era show trial, clocking his third feature work to premiere within eight months), as well as returns from some of the biggest names in documentary - Frederick Wiseman (Monrovia, Indiana), Werner Herzog (directing with Andre Singer on Meeting Gorbachev), and Errol Morris, whose Steve Bannon-featuring American Dharma was one of the non-fiction highlights for me at the festival. Essentially completely omitting his signature Interrotron setup for a fairly sustained conversational framing, the film was caustically attuned to the dynamic between the two men with a forensic eye to delivery and expression; a strange swirl of one-way respect (in the direction towards Morris from his subject - Bannon clearly a preceding fan of the director, with the ego-led sense that he is stepping into, say, the subject shoes of McNamara in The Fog of War - which is not the case here) and suspicion, if not outright fear (Morris himself duly and explicitly noting his apprehension of Bannon direct to his face). Elsewhere, Roberto Minervini, an Italian director whose impressive documentary and docu-fiction chronicles of the American South keep delivering in cumulative effect, continued to TIFF straight from the Venice competition with the rousing What You Gonna Do When the World's On Fire?
Outside of some of its more adventurous notes, the festival continues to command populist, commentator and industry attention as a trampoline-prestige setting for a tentpole set of films - an awards season making-ground in the context of its People's Choice Audience Award, which is now an iconic precursor of sorts to the Hollywood awards season, given that fifteen former recipients of the award have gone on to Oscar Best Picture nominations (and five of them have won it). This year it was an upset of sorts, with commentators ready to bestow it wholesale to Bradley Cooper's aforementioned A Star is Born remake seemingly before the festival even began; whereas Peter Farrelly's Viggo Mortensen/Mahershela Ali-starring Green Book was what ultimately nabbed it. A director moving into the Oscar-prestige/festival mode of drama (although the Philadelphia Tribune endearingly observes Farrelly himself as saying "I once thought Dumb and Dumber was in the Cannes Film Festival but then I learned my brother was just busting my balls"), TIFF has effectively supercharged its awards seasons prospects from the starter's whistle here.
That's just scratching the surface of highlights for a program which annually tends to deliver upwards of 350 films - a fantastic scouring ground to unearth discovery, get us on the track for some of the most anticipated films of next year and spark some points of inspiration for what comes next for the MIFF 2019 program!
Al. Cossar, MIFF Artistic Director