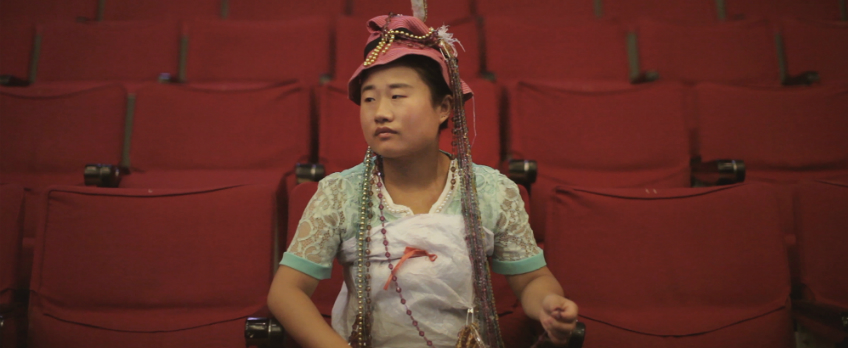 Spotlight on Documentary Shorts
Posted by Jillian Tan, Bachelor of Arts (Creative Writing) at RMIT University and MIFF 2016 Intern.

Storytelling has and always will be a necessary presence in cultures around the world. Since the beginning of civilisation, stories featuring myths and legends have endured and enchanted the masses, conveying important meanings and symbolisms that explore both the historical and the traditional. In today's world, documentaries serve to convey these stories to us in new and innovative ways. For our Documentary Shorts program, we look into the myths that continue to persist today, the legendary figures that will bring about a new tomorrow, and unfamiliar settings that stimulate our sense of imagination.



Winning the Golden Bear for Best Short Film at the Berlin international Film Festival, Romani filmmaker Leonor Teles conceived of Batrachian's Ballad upon learning of the age-old Portuguese tradition of placing ceramic frogs in the doorways of restaurants and other commercial premises to ward off gypsies. Inspired by people's use of belief and superstition to keep others at a distance, Teles weaves a bold, personal story about those who exist outside the status quo in everyday Portuguese society, and how shattering these images of tradition can perhaps signal a changing future.



Reber Dosky's The Sniper of Kobani likewise approaches the subject of everyday life, but through the eyes of a Kurdish sniper named Haron. Though the town of Kobani in Syria lies in ruins, he perseveres with his efforts against the advancing Islamic State. From getting a haircut, to hiding amongst the debris of once-inhabited buildings, and attending a celebration alongside groups of children, Haron is seen amidst settings both familiar and unfamiliar to our notions of civilised life. Accompanied by contemplations on Haron's hopes and dreams for the community and the country, the film handles the subject matter with immense tact, gently placing more than a singular figure into the spotlight.



Fighting a wholly different battle, Dan Taberski takes us to Nashville in These C*cksucking Tears, introducing us to Patrick Haggerty. Having founded the band Lavender Country and released the first openly gay-themed country music album in 1973, Haggerty shows us that it is indeed possible for country music to be as radical as punk. Taberski paints a rugged, uncensored portrait of a man who's lived through society's struggles to embrace him for who he is, and who participated in a part of the music industry that refused to lend him visibility. Taberski drops us right into the urban myth of gay country music, laying bare Haggerty's bravery and honesty, and the humorously progressive nature of this humble septuagenarian.


Caroline Monnet's Mobilize addresses a whole other side of history and its progress. Monnet was approached by the National Film Board of Canada to be a part of Souvenir — a series of four films that address Aboriginal identity and representation via reworking material in their archives — and what she's created is a dynamic rendition of indigenous expression highlighting the tension that exists within the individual as a result of having to negotiate between the traditional and the modern. Accompanied by a deep, meditative soundtrack from Canadian Inuk singer Tanya Tagaq, Mobilize aptly captures the spirit of "a people always moving forward", with archival footage as timeless as its subject matter.



Taking us into another lesser known territory is the captivating The Diver, which follows the chief diver of the Mexico City Sewerage System, Julio César Cu Cámara, whose job it is to repair pumps and dislodge garbage in order to prevent flooding. Though Cámara's job is essential to the smooth operation of the city's infrastructure, he remains an anonymous hero. Filmmaker Esteban Arrangoiz complements Cámara's story with stylistic and aesthetically pleasing visuals, enveloping the nitty gritty with an element of fantasy.

On the other hand, Omnia by Amna Alnowais re-appropriates assumptions of anonymity as a tool to conceal. Exploring the specific story of one woman's trauma caused by genital mutilation, it exposes us to Omnia Ibrahim's harrowing story through voice-over exposition. Her face stays excluded from the narrative. Abstract and illusory visuals instead call upon audiences to actively imagine and empathise with her, thus placing her story on a platform that encourages universal response, laying bare the lasting impact of genital mutilation as well as what it means to be a woman in a society that places tradition over familial love and protection.



Daniel Claridge and Pacho Velez then take us into the world of drag racing in Dragstrip, creating an impressionist view of the drivers and spectators at the event. Their dazzling and delightful compositions will inspire awe, where suspense and excitement is supplanted with a humorous sense of ennui that stands in stark contrast to raging sounds of speed and acceleration.
Rongfei Guo's Fairy Tales also puts the extraordinary into the ordinary, chronicling the story of a young woman from rural Shandong, who designs fashion from found objects. After gaining attention on Chinese social media site Weibo, Fairy Wang is employed by the local media as a figure of cheap entertainment and ridicule. Despite the many obstacles that hinder her, she perseveres and attracts the eyes of those in the fashion and art world. Providing commentary on social media, present day art and contemporary life in rural China, Guo's film tells a tender tale of aspiration in distinctive circumstances, while reflecting on her own skills as a passionate documentarian of social issues.
MIFF's Documentary Shorts program screens at 9.15pm on Thursday 4 August. The winner of the Best Documentary Short award will be eligible to enter into the 2017 Academy Awards.