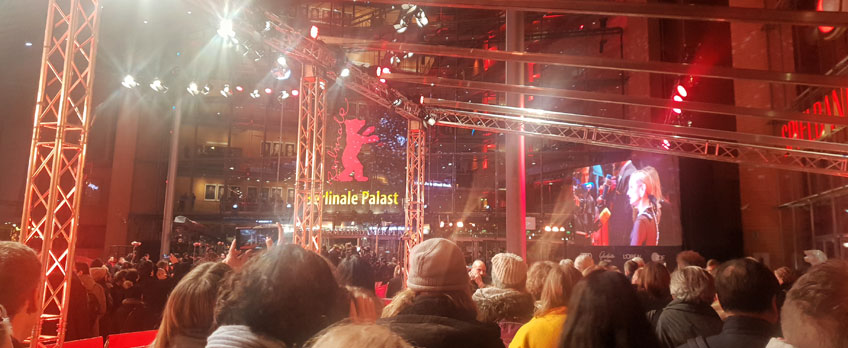 Berlinale Report
The Berlinale - a 400 film+ (!) sprawl through the fascinations of contemporary world cinema; a journey to the limits of formal adventurism; a return and a discovery to its combination of old mavericks and new apprentices; as well as the assorted hustlings and bustlings of the European Film Market - remains a major destination for MIFF's team in planning and building our program every year.
The biting cold (less biting than usual this year), a fiercely assembled, frantically running here-and-there schedule of meetings, screenings, and an inevitable, regrettable (not really) descent into the city's most marginal currywurst (can a stomach ache really go on naturally for 8 days continuously?) all bring a sort of festival familiarity to the square eyed film types who arrive here.
It's a transitional year for the Berlinale of sorts, as long-standing director Dieter Kosslick (who has headed the festival for 17 years) prepares to hand the reins to Carlo Chatrian (previously Locarno's director) as new Artistic Director and Mariette Rissenbeek as new Executuve Director for the 2020 edition, delivering a final program unified by the notion that 'private life is political'.
I've attended the festival here since 2011, and at extreme scale it remains a particular sort of screen adventure in its combination of the known quantity and purely unexpected. It's a festival that foregrounds both the wilfully broad and the singularly difficult; a program requiring a deep dive, where those films that lack the immediate visibility of its central competition can be the most satisfying to discover, where other elements remain commitedly outre to a beyond-hardcore cinephile set.
Much conjecture and commentary around Berlin's competition (this year awarded by Juliette Bincohe's jury) points to its subjective highs (in previous and recent years, the breakout festival setting for films including A Separation, Gloria, a surprising debut/launch path to Oscar attention for Kim Nguyen's War Witch) and lows each edition, and in this edition, the real-life drama of the last minute withdrawal of Zhang Yimou's Cultural Revolution drama One Second from competition was an additional shock twist; elsewhere, the competition featured new works from singular voices such as, Agnieska Holland, Nadav Lapid and Angela Schanelec.
One of the ways in which Australia is represented here is in the World Premiere of 2019 MIFF Premiere Fund film, Rodd Rathjen's terrific feature debut Buoyancy, within the Panorama section - an engrossing human drama tackling modern day slavery on a Thai fishing vessel, and a film that we're proud to introduce you to later this year at our own festival.
Elsewhere, the greatest piece of cinephile heartwarming at the festival was the awarding of the Berlinale Camera to the legendary Agnès Varda alongside the World Premiere of her new documentary Varda by Agnès, a rich, warm and stridently insightful peak into creative process and a lifetime of making films.
A late in the festival favourite (my last film here, actually) was also to emerge as the perfect departure point. It was a celebration, and one nearly never seen - in fact, it's entirely possible that Sydney Pollack's Aretha Franklin concert film Amazing Grace - never-released at the time of its 1972 production, and almost to re-emerge at the Telluride and Toronto Film Festivals in 2015 before legal action caused a last minute cancellation, may have stayed that way.
Publicly unseen 46 years since it was shot, the late singer's estate reached an agreement last year, subsequently opening the floodgates to festival and theatrical play, propelling the doc through settings like AFI Fest, DocNYC to its European premiere at the Berlinale. It was worth the wait, and I don't mean from 2015 - I'm talking the half century one. The film is an all-out rapturous, lightning-in-a-bottle brand of concert film that captures the soul, joy and sheer electricity of its time, place and talent with unguarded immediacy - shaky 16mm handhelds, the closeness of the musician's beaded sweat, and Mick Jagger and Keith Richards demurely dancing somewhere in the crowd. That's the film to finish a festival with.
- MIFF Artistic Director, Al Cossar
Al Cossar has experienced the Melbourne International Film Festival as a square-eyed fan and film obsessive, as a volunteer, as its programmer, and since October 2018, as its Artistic Director.