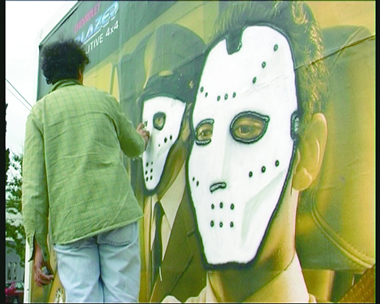 Oscar is a taxi driver in Buenos Aires. Feeling invaded by the huge commercial ads on the streets, he decides to take revenge. At any opportunity, Oscar transforms these billboards with his own collages and paintings. He has now created over 800 ephemeral and provocative works, and has created quite a stir. Even the advertising schools are requesting his presence to teach them his intuitive flair for capturing the public's attention.
Sergio Morkin, a young Argentinean filmmaker, was fascinated by Oscar's 'ad-buster' inventiveness, using creative means to resist the social and economic consumerism that is threatening to overtake Argentina. This engrossing documentary adopts the free-spirited nature of its subject, and driving through the Buenos Aires streets paints a portrait of a city on the verge of anarchy. As the 2002 riots unfold, Oscar's message is even more potent.
---
D Sergio Morkin P Nicolas Avruj, Sergio Morkin WS Nicolas Avruj L Spanish w/English subtitles TD video/col/2004/61mins
Sergio Morkin was born in Buenos Aires, Argentina, in 1969. [Oscar] (MIFF 05) is his first feature documentary.