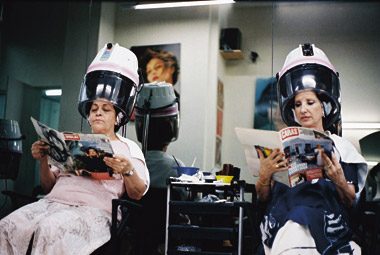 Jorge Gaggero's [Live-In Maid] is an affectionate, well-observed tale of the complex bonds tying two very different women. A businesswoman from an upper-middle-class family, Beba has gone downhill with the Buenos Aires economy, both in terms of money and sobriety. Months have past without paying Dora, who has been living with her for almost 30 years. Incapable of handling simple household duties herself, Beba cannot function without a maid. She needs Dora. Dora needs money to live but, having been in something like a mother-child relationship with Beba, she is torn about the prospect of having to leave.
[Live-In Maid] deftly touches on the class issues that frame the women's relationship, as these are unavoidable. But the emotional and personal terrain of their lives is not dictated solely by class; it could never be so simple. Drawing on the great chemistry between the two leads - Norma Aleandro, an actor with 50' years experience, and Norma Argentina, a non-professional - [Live-In Maid] achieves a totally engaging naturalness and grace.---D/S Jorge Gaggero P Veronica Cura WS The World Sales Co. L Spanish w/English subtitles TD 35mm/col/2004/83mins
Jorge Gaggero was born in Buenos Aires, Argentina, in 1970. His films include [A Piece of Earth] (2001), [The Secret Sea] (2002), [Vida en Falcon] (2005).