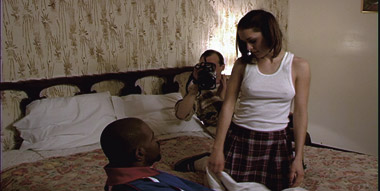 After four years hard time in the slammer, Nate Maycott is determined to rebuild his family life and maintain his freedom. He wouldn't have done time at all if he had simply paid off the police like everybody else, but the 'tax' was too high. Now, just one year out of the slammer, the cops want to own him, and he has much in his past to hide, including an unsolved murder. All Nate has to do, they tell him, is keep an eye on prostitution at the Chicago Uptown Hotel. While once this may have been an option, now there is too much at stake - a young daughter, a sick grandfather and new love. Slowly, Nate is backed into a corner, his options shrinking to a pinpoint.
Deeply rooted in US hardboiled genre fare of the 1970s, [Under the City] is a perfectly pitched crime thriller with love, family and the need for redemption at its very core. It announces the tough, macho, kick-down-the-door arrival of Australian director Adam Golomb and lead Dean Rabaiov.
Adam Golomb and Dean Rabaiov will be attending the festival.
---
D/P/S Adam Golomb P Dean Rabaiov, Tom Perschke TD video/col/ 2005/131mins
Adam Golomb was born in Australia. [Under the City] (MIFF 05) is his first feature film.