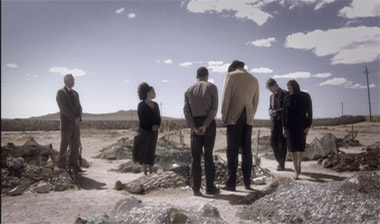 A jolting reminder of the ongoing problems caused by South Africa's apartheid past, [Forgiveness] follows a white man's quest for reconciliation, and the attempts of his victim's family to deal with their loss.
Former policeman Tertius Coetzee feels guilty about the violent crimes he committed in the past. Granted amnesty by the Truth Commission but torn apart within, he travels to the fishing village of Paternoster in a quest for forgiveness from his victim's family. Unsurprisingly, he's greeted with mixed response and has a growing awareness of the complexity of coping and forgiving: rage, sadness, resignation and a desire for revenge are the inevitable emotions along the road to community acceptance.
[Forgiveness] is an urgent and moving portrait of human catharsis, and a film of real cultural significance. The first South African feature to deal with the politics of reconciliation since the end of apartheid, Forgiveness was awarded major prizes at the film festivals of Durban and Cape Town.
Jeremy Nathan will be attending the festival.---D Ian Gabriel P Cindy Gabriel, Jeremy Nathan S Greg Latter WS Fortissimo Films TD 35mm/col/2004/112mins
[Forgiveness] (MIFF 05) is Ian Gabriel's first feature film.