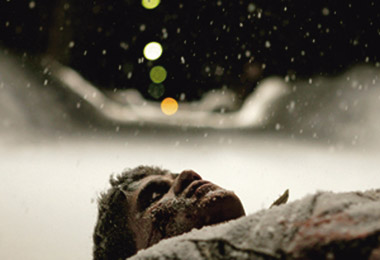 [Kissed by Winter] is the piercing debut feature of Sara Johnsen, its story turning on loss, repression and redemption.
A doctor in Stockholm, Victoria's life is thrown into disarray by the death of her beloved son and the blame her husband feels towards her. She flees to a backwater Norwegian town where she hopes to begin a new life and escape the pain of her past. But while she escapes one death, she comes face-to-face with another. The body of an Iranian boy is discovered in the snow one icy winter morning. Initially, the police believe he has been struck by a snowplow, or perhaps even the victim of racially motivated foul play, but his death becomes suspicious when Victoria notices odd marks on his feet. Victoria's work takes her close to the boy's parents, and she also develops a relationship with Kai, the snowplow driver implicated in the boy's death.
Slowly the truth is revealed and Victoria is able to face her own demons. The considerable human warmth of melancholic musing on exile and mourning will melt the hardest heart.---D/S Sara Johnsen P Jeanette Sundby S Stale Stein Berg WS Nordic Film Institute L Norwegian, Swedish w/English subtitles TD 35mm/col/ 2005/84mins
Sara Johnsen was born in Norway in 1970. [Kissed by Winter] (MIFF 5) is her first feature film.