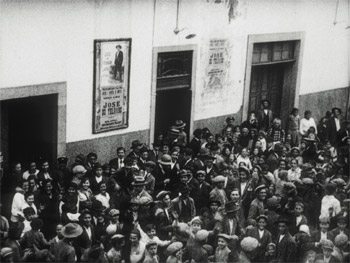 In this new-found footage work by Gustav Deutsch (Film Ist), three historical camera pans take in the streets and squares of Vienna, Surabaya and Porto. They provide a starting point for reflecting on the relationship of everyday stories and cinematic machinery.
Each of the three pans - taken between 1912 and 1930 - contains a cinema. In the montage, the passers-by become chance protagonists in a series of micro-tales, which report on both cinematic and world history. For Gustav Deutsch, the cinema is a mirror to the world. And conversely, the cinema belongs to these, the secondary characters of history.
"Experimental in construction but accessible to all, [World Mirror Cinema] breaks down the narrative barriers of 'actuality' newsreels to reveal the limitless lives of even the most marginal background figures. Brilliantly manipulating found footage from the silent era, Gustav Deutsch views every inch of the frame as a window onto hidden lives, intercutting shots from other films to suggest histories that expand beyond the fleeting glimpses of a moment's screen time." - Variety
---
D Gustav Deutsch P Manfred Neuwirth, Frank Rouhen WS Sixpack Film TD 35mm/B&W/2005/95mins
Gustav Deutsch was born in Vienna, Austria, in 1952. His films include [Adria] (1990), [55/95] (1994), [Film ist.] (MIFF 02).