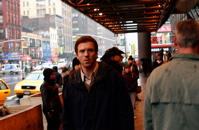 Spare and claustrophobic, [Keane] is a deeply unsettling and utterly compelling film by cinematographer-turned-filmmaker Lodge Kerrigan (with Steven Soderbergh executive producer).
The 6-year-old daughter of William Keane (viscerally played by Damien Lewis) was abducted from the New York Port Authority Bus Terminal some months earlier. Anguished, Keane returns to compulsively retrace the events of that day in an effort to find clues to her disappearance. Tormented and chattering incoherently, his despair and demeanour become unnerving, raising suspicions about his deeper psychological condition.
During his search, Keane lives in a shabby hotel, where cocaine and anonymous sex provide temporary relief to his pain. Then one day he befriends a single mother (Amy Ryan) and her introverted daughter (Abigail Breslin), who Keane is immediately drawn to. All three are down on their luck, and they provide some comfort to one another.
In this intense and expertly executed character study of a man in unimaginable crisis, Kerrigan quietly piles tension upon tension, right up to the film's terrible finale.
Contains scenes that may offend some viewers---D/S Lodge Kerrigan P Andrew Fierberg WS Studio Fierberg TD 35mm/ col/2004/90mins
Lodge Kerrigan was born in New York, USA, in 1964. His films include [Clean, Shaven] (1993), [Claire Dolan] (1998).