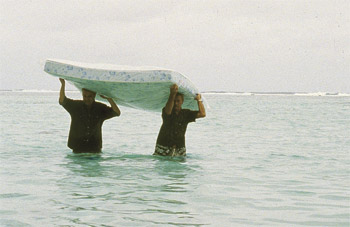 Claire Denis' Golden Lion-nominated [The Intruder] distils the visual and aural economy she achieved in her much acclaimed [Beau Travail] (MIFF 00). Through an evocative, dreamlike visual code and an unconventional narrative structure, Denis turns to one man's quest for a new heart and a new beginning.
Financing the operation from his Swiss bank account, Louis (Michel Subor) leaves his forest idyll to travel to South Korea, where he considers plans for his boat, before journeying to the South Pacific to start a new life. Louis is haunted by his disreputable past, and seeks to salve his conscience and morality through his new heart and its promise of a fresh beginning. Inspired by French philosopher Jean-Luc Nancy's [L'Intrus] (2000) and Robert Louis Stevenson's [South Seas] (1896), Denis' [The Intruder] traces the physical and metaphysical journeys that Louis must undertake in his existential quest. "So the weary heart, mine at least, charts the imaginary territory like some recurrent, haunting notion of the world, from the northern to the southern hemisphere. The escape, the flight, can only be the end of the world you proceed." - Claire Denis---D Claire Denis P Humbert Balsen S Claire Denis, Jean Pol Fargeau WS Pyramide International L French w/English subtitles TD 35mm/col/ 2004/130mins
Claire Denis was born in Paris, France, in 1948. Her films include [Nenette et Boni] (1996), [Beau Travail] (MIFF 00), [Friday Night] (2002), [Trouble Everyday] (MIFF 03).