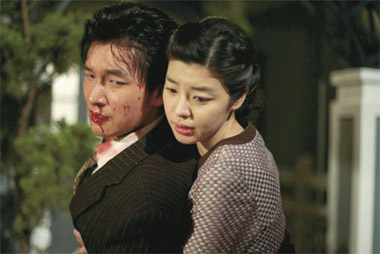 [Low Life] is the staggering 99th feature of Korean cinema master Im Kwon-taek, in which he continues to put traditional Korean culture at the heart of his aesthetic enterprise.
The visually splendid [Low Life] is set in one of the most turbulent times of Korea's recent past, from the time of the Freedom Party's decline in the late 1950s to the rise of oppressive military reform in the early 70s. The film traces the life of Choi Tae-woong (Cho Seung-woo), a man gifted with pummelling fists and an ambition to make a life for himself through these tough times of change. Choi is inducted into gang life at an early age, and is engaged by a powerful man as a 'problem-solver'. When the military coup disposes of organised crime, Choi turns to film, but his failure as a producer leads him back into the world of crime. But through all its mercilessness, some truly poignant and intimate moments - such as when he meets his wife - lend elegance and softness to the toughness of this depiction of South Korean society.
[Low Life] featured in competition at Venice Film Festival, 2004.
---
D/S Im Kwon-taek P Lee Tae-won WS Cinema Service L Korean w/English subtitles TD 35mm/col/2004/99mins
Im Kwon-taek was born in Chang-sung, South Korea, in 1936. His films include [The Deserted Widow] (1973), [Chang] (1997), [Chihwaseon] (2002).