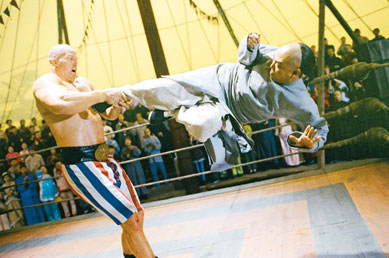 Jet Li stars in what he proclaims to be his final martial arts feature; this kinetic retelling of the life of Huo Yuanjia, founder of the Jingwu School of Martial Arts.
Growing up in Tianjin, Northern China, Huo is forbidden to train by his martial artist father and resorts to training himself in secret. Eventually rising to become the city's best fighter, Huo flees to the countryside after his arrogance brings tragedy to those around him.
Living among simple farmer folk, he learns humility and maturity but, as foreign influence encroaches on China, Huo is eventually drawn once more into combat to defend his nation's honour.
Eschewing the visual-effects-heavy style of recent martial arts offerings, Fearless is a return to the classic, stripped-back kung fu style typified by the early films of Jackie Chan and Jet Li. With martial arts choreography by the incomparable Yuen Woo-ping (Drunken Master, Once Upon a Time in China, The Matrix, Crouching Tiger Hidden Dragon), this is a must-see for fans of the 'fu.
Director Ronnie Yu is a guest of the festival and will introduce the session on Friday 28 July, 7pm at the Regent Theatre.
---
D Ronnie Yu P Bill Kong S Christine To, Chris Chow Dist UIP L Japanese, English, Mandarin w/English subtitles TD 35mm/2006/111mins
Ronny Yu was born in Hong Kong in 1950. His films include The Bride with White Hair (1993), Warriors of Virtue (1997) and Freddy vs. Jason (2003).