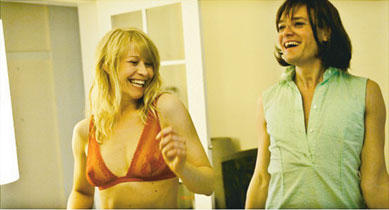 A Soap cleaned up at this year's Berlin Film Festival where it won a Silver Bear Award, Best Debut Film and was nominated for a Golden Bear Award.
Charlotte could have it all but she doesn't want any of it. When she moves away from her boyfriend, she happens to become the upstairs neighbour of dog owner, soapie fan and transsexual Veronica. A suicide attempt, an assault and some white curtains bring the two of them together and they end up as the main characters of their own turbulent love story.
Sparse and smoothly executed, this first feature for Pernille Fischer Christensen is anything but sudsy slush, as the title may suggest. Fischer Christensen shows admirable circumspection and a gently humourous touch with a script that could easily have erred towards melodrama. The film is shot in warm and colour-rich 16mm stock, with largely mobile hand-held camera movements.
---
D Pernille Fischer Christensen P Lars Bredo Rahbek S Kim Fupz Aakeson WS Trust Film Sales L Danish w/English subtitles TD 35mm/2006/104mins
Pernille Fischer Christensen was born in Copenhagen, Denmark, in 1969. Her films include India (1999, short) and Habibti My Love (2002, short).