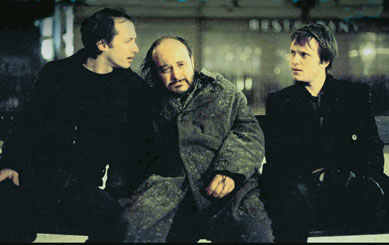 Veteran documentary filmmaker Michael Glawogger's fiction feature Slumming, which premiered in competition at the Berlin, is a finely crafted, provocative work.
Viennese rich kid Sebastian (August Diehl) lives off inherited money and enjoys playing pranks, with his housemate, on everyone and everything. They are into 'slumming' or 'slum tourism', visiting places of social gatherings that they (as rich boys) would normally never visit: Turkish cabarets, seedy snackbars, bachelor meetings, dodgy cafes for Internet dates, welfare institutions. Meanwhile, wild-eyed street poet Kallmann makes just enough money selling his tortured poetry to passersby to stay in drink.
The paths of these men, immensely angry in their own disparate ways, cross when Sebastian and Alex come across Kallmann passed out on a bench. With the increasingly reluctant Alex in tow, Sebastian, in his most ghastly 'joke' yet, drives across the Czech border and drops the inebriate in a remote burg. Sebastian's recent catch, the restless teacher Pia, is revolted by news of the prank and sets out on a quixotic quest to find him.
See also Workingman's Death (Globalised)
---
D Michael Glawogger P Erich Lackner, Peter Wirthensohn WS Bavaria Film GmbH L German, Czech, Indonesian w/English subtitles
TD 35mm/2005/96mins
Michael Glawogger was born in Graz, Austria, in 1959. His films include Ant Street (1995), Megacities (1998) State of the Nation (2002) and Workingman's Death (MIFF 2006).