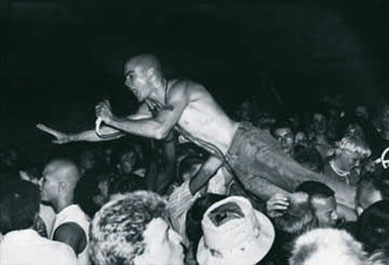 Generally unheralded at the time, the early 80s, hardcore punk rock scene in America gave birth to much of the rock music and culture that followed. There would be no Nirvana, Beastie Boys or Red Hot Chili Peppers if not for hardcore pioneers such as Black Flag, Bad Brains and Minor Threat.
Hardcore was more than music, though - it was a social movement created by Reagan-era misfit kids. The participants constituted a tribe unto themselves - some finding a voice, others an escape in the hard-edged music. Some sought a better world, others were just angry and wanted to raise some hell.
Based on a book by Stephen Blush, American Hardcore traces this subculture from its roots to its extinction, mainlining excellent archival concert footage and interviews with the key players. Blush describes the documentary as "a 100 percent independent effort about a 100 percent independent subculture." Both in content and in nature, American Hardcore gives the finger to anything that gets in its way.
---
D/P Paul Rachman P/S Steven Blush Dist Sony Pictures Releasing TD video/col&bw/2006/98mins
Paul Rachman was born in New York, USA, in 1959. His films include Four Dogs Playing Poker (2000). He began his career making music videos for the hardcore punk scene.