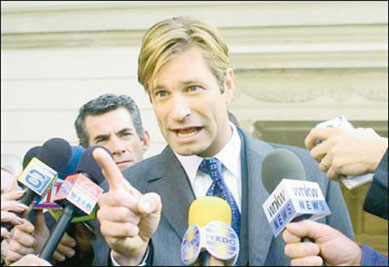 "Both sides of the political fence will feel royally skewered. All that's lacking is a warning from the Surgeon General: This film will make you laugh till it hurts."
- Rolling Stone
This first feature from director Jason Reitman is stylish, slick and as fast-thinking as its protagonist, Nick Naylor, played with smug, venal delight by Aaron Eckhart.
Naylor is a master of manipulation with the gift of the gab. A lobbyist for the tobacco industry, he possesses the skill and flair to convince a television audience that it's best to keep a 15-year-old cancer patient alive and, of course, smoking. Fighting against anti-smoking crusaders while dining with the M.O.D. Squad (Merchants Of Death - his equivalents in the firearms and alcohol industries), Naylor decides to take on the big guns, Hollywood, to get the heroes of film smoking on-screen again and to win over a new generation of audiences.
As Naylor puts it, "The message Hollywood needs to send out is Smoking Is Cool!"
Director Jason Reitman and Producer Daniel Dubiek are guests of the festival and will introduce the screening on Thursday 27 July, 9pm at the Forum and on Saturday 29 July, 9.15pm at The Regent Theatre. Both screenings will be followed by a Q&A session.
---
D/S Jason Reitman P David O. Sacks Dist 20th Century Fox
TD 35mm/2005/92mins
Jason Reitman was born in Montreal, Canada, in 1977. His films include Operation (1998, short), H@ (1999, short) and Uncle Sam (2002, short).