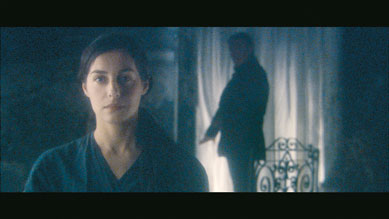 "Abandon all preconceptions and surrender to the strange fantasmal drift of a darkly magical world." - Sight and Sound
The Piano Tuner of Earthquakes is the breathtakingly beautiful and long-awaited second feature from the Brothers Quay. Best known for their short animation contributions - which were the subject of a MIFF retrospective in 2002 - identical twins the Quays' new feature combines the startling aesthetics of their animation with live action, and the result is an evocative dream, part fairytale, part nightmare.
On the eve of her wedding, the beautiful opera singer Malvina is mysteriously killed and abducted by a malevolent Dr Droz Felisberto. An innocent piano tuner is summoned to Droz's secluded villa to service his strange musical automatons. Little by little, Felisberto learns of the doctor's plans to stage a "diabolical opera" and of Malvina's fate. He secretly conspires to rescue her, only to become trapped himself in the web of Droz's perverse universe.
---
D Brothers Quay P Keith Griffiths, Alexander Ris, Hengameh Panahi WS Celluloid Dreams TD 35mm/2005/99mins
Stephen and Timothy Quay were born in Pennsylvania, USA, in 1947. Their films include The Cabinet of Jan Svankmajer (1984, short), Institute Benjamenta (1995) and Duet (2000, short).