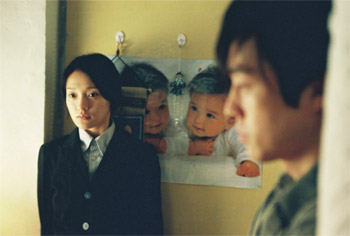 Robert De Niro presented [Stolen Life] director Li Shaohong with the top prize at the Tribeca Film Festival earlier this year. Li Shaohong is one of the most prominent female directors working in China today. Banned in its homeland, the film revolves around teenage Yan-ni, whose prospects look bleak. Even her peasant family believes she is not going to amount to much. But when Yan-ni is accepted into a nearby university she believes she has found a way out. On her first day at school she literally runs into the very attractive Mu-yu, who immediately begins to court her. Yan-ni is getting a good education and is living with the man she loves, soon to be married, when she begins to get inklings that Mu-yu is staging an intricate scam, one that he has pulled off before.
"Struggling to survive after having left college because of her relationship, Yan-ni is forced into menial work and she soon realizes that Mu-yu has engaged in a new deception with another woman. As Yan-ni plots revenge against her ex-lover, she must decide whether revenge really does taste sweet." - Tribeca Film Festival
---
D/P Li Shaohong P Gao Ziaoping S Liao Yimei WS Arc Light Films L Chinese w/English subtitles TD 35mm/col/2005/100mins
Li Shaohong was born in Suzhou, China, in 1955. Her films include [Family Portrait] (1992), [Blush] (1994), [The Red Suit] (2000).