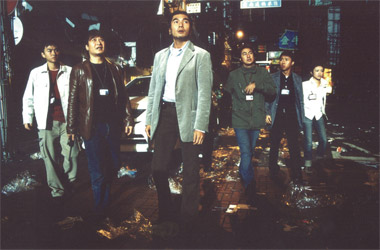 Mongkok, one of Hong Kong's most densely populated areas, is a seething centre of illicit business and criminal connections. Into these claustrophobic streets steps Lai Fu (Daniel Wu), a farm boy from mainland China, hired as a killer in the gang war that's rocking Mongkok. He meets prostitute Dan Dan (the glamorous Cecilia Cheung), who hails from a neighbouring village back in China, and soon they're on the lam together after he pulls her from the clutches of a violent customer. Dan Dan doesn't realise that the cops are also after Lai Fu for their own reasons. And so are his Triad overlords. As the crowds teem and the night grows older, the two weave in and out of Mongkok's streets and alleys, finding comfort only in each other. In the unremitting glare of neon lights, Lai Fu is desperate to find a way out. A tense thriller with a compelling, laser-precise focus on character, [One Nite in Mongkok] won the Hong Kong Film Awards for Best Director and Screenplay and the Hong Kong Film Critics' Society Award for Best Director.
---
D/S Derek Yee P Henry Fong WS Universe Films Distribution Company Ltd L Cantonese, Mandarin w/English subtitles TD 35mm/col/ 2004/110mins
Derek Yee was born in Hong Kong in 1957. His films include [People's Hero] (1986), [Full Throttle] (1995), [Lost in Time] (2003).