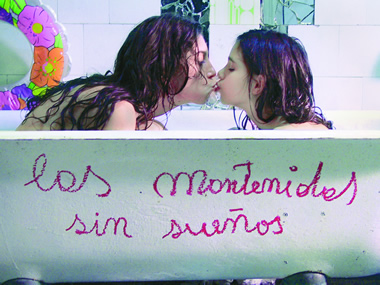 Florencia (co-director, Vera Fogwill) and her daughter, Eugenia (Lucia Snieg), are victims of Argentina's all-consuming economic crisis; they are also refugees of Florencia's own personal crises, the fallout of her ongoing drug abuse. But this is not a depressive film about national and personal failure; rather it is a nuanced and often uplifting tale of a complex mother-daughter relationship.
Eugenia is an eight year old with buckets of spark and precociousness. She is both caregiver and emotional anchor in this family. Meanwhile, Florencia - estranged from her own mother - is most often coked-up and in a state of either catatonia or neurosis. An escape from the stasis of their situation comes when Florencia takes a day job as a maid for her former best friend, now a wealthy, bored housewife. It is the honest and endearing bonds that connect these female characters that lie at the heart of the film and that will undoubtedly beguile its audience.
"Matching stylish originality with a refreshing lack of moralizing, [Kept and Dreamless] keeps the banner of Argentine independent cinema flying high." - Variety---D Vera Fogwill, Martin Desalvo P Vera Fogwill, Stefan Schmitz, INCAAS Vera Fogwill WS Primer Plano Film Group L Spanish w/English subtitles TD 35mm/col/2004/97mins
Vera Fogwill was born in Buenos Aires, Argentina, in 1972, and Martin Deslavo in Buenos Aires in 1973. [Kept and Dreamless] (MIFF 05) is their first feature.