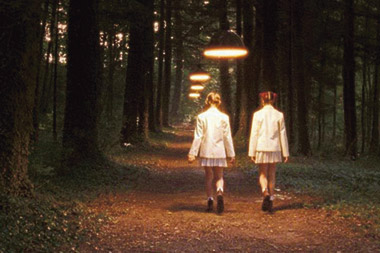 Six-year-old Iris emerges from a burial box into a dreamlike world of pre-pubescent girls, all with coloured ribbons in their hair. The ribbons denote the girls' ages, all-important in this self-contained school set deep in the forest's heart. Here the girls are tutored in ballet and biology, for it is essential that they be pretty, elegant breeders. Those who are disobedient are punished and those who try to escape never leave: obedience is the only path to happiness. But what is the fate of the girls, when each evening the oldest departs, never to return'
Based on a late 19th-century novella by Frank Wedekind, [Innocence] is a powerful, Gothic coming-of-age tale by Lucile Hadzihalilovic. Shot by Benoit Debie ([Irreversible]), this visually outstanding allegory explores the fear and attraction of the unknown, the rules and rituals of society, and the limits of innocence and femininity, delivering the contemporary Gothic associated with Angela Carter's fiction.
"[Innocence] is a magic, poetic dream with elements of theatre, psychological thriller and horror. With very stylised camerawork, the mood rocks gently between innocence and sinister." - Rotterdam Film Festival---D/S Lucile Hadzihalilovic P Patrick Sobelman WS Wild Bunch L French w/English subtitles TD 35mm/col/2004/110mins
Lucile Hadzihalilovic was born in Lyons, France, in 1961. Her films are [La premiere mort de Nono] (1987, short), [La bouche de Jean-Pierre] (1996), [Good Boys Use Condoms] (1998, short), [Innocence] (MIFF 05).