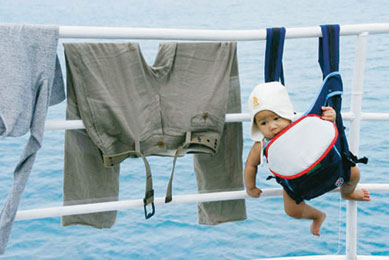 "If Jacques Tati, the French comic absurdist, had ever made a gangster thriller, it probably would have looked like Invisible Waves." - Hollywood Reporter
This ethereal existential offering from Thai revelation, Pen-ek Ratanaruang, who was the subject of a special MIFF spotlight in 2004, effectively serves as an (anti-)sequel to his last film, Last Life in the Universe.
Starring Japanese heartthrob Asano Tadanobu, the plotline follows a furious and guilty hitman who makes a dash for Thailand after inadvertently killing his girlfriend. On arrival, he discovers there's no shaking his problems; in fact, they've now taken on sinister proportions.
Much of the film is given over to comic bliss with the hitman assailed by minor indignities and malfunctioning amenities aboard a ship. Guns do go off and people die but Pen-ek de-emphasises the thrills in favour of his unique brand of existential slapstick. It is also superbly shot by celebrated expat Aussie cinematographer Christopher Doyle (Hero, MIFF 2004).
---
D Pen-ek Ratanaruang P Wouter Barendrecht, Micheal J. Werner
S Prabda Yoon Dist Accent Films L English, Mandarin, Japanese w/English subtitles TD 35mm/2005/115mins
Pen-ek Ratanaruang was born in Bangkok, Thailand, in 1962. His films include Last Life in the Universe (MIFF 2004), Mon-Rak Transistor (MIFF 2004) and 6ixtynin9 (MIFF 2004).