Director: Neil Delallama & Ian Gamazon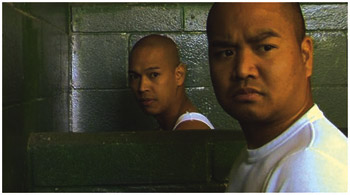 Smart, tense, raw and uncompromising, [Cavite] is everything we crave of a truly independent thriller. In the town of Cavite, in the Philippines, people will do just about anything to survive. Adam, an American citizen visiting his home country for his father's funeral, soon realises this when he arrives at the Philippines airport and receives a phone call from an anonymous caller; his mother and nine-year-old sister have been kidnapped and will be killed if he doesn't comply with the kidnapper's instructions. With a budget lower than a standard Hollywood catering budget, this ingenious, white-knuckle ride blindsided critics at the Rotterdam Film Festival and created enough suspense to leave its audiences gasping. It combines the sort of inventiveness that we've come to expect from recent Asian genre cinema with the unmerciful realism of life on the streets in the Philippines. The result is a first-class first-person nightmare of bruising intensity.
D/S Ian Gamazon, Neill Dela Llana P Ian Gamazon, Neill Dela Llana, Quynn Ton WS Gorilla Films L English, Tagalog w/English subtitles TD 35mm/col/2004/82mins Ian Gamazon was born in Manila, Philippines, in 1973. His films include [Diego Stories] (1996), [Freud's Second Law] (2001). Neill Dela Llanawas born in Subic Bay, Philippines, in 1973. His films include [The Book] (1998).
See also...