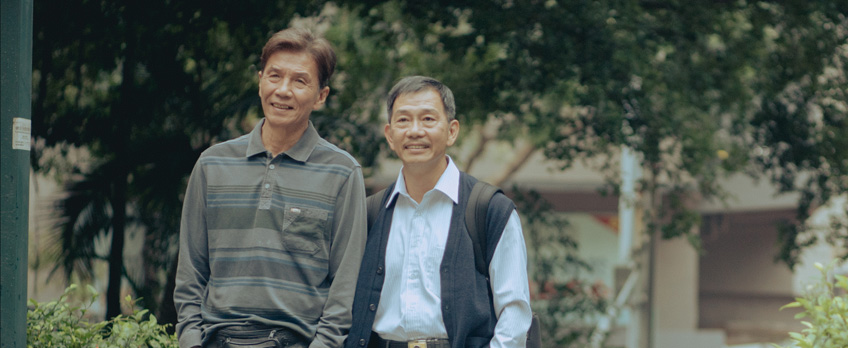 The Gay Generation Gap in Suk Suk and Ellie & Abbie (& Ellie's Dead Aunt)
Critics Campus 2020 participant Merryana Salem examines the handling of intergenerational LGBTQIA+ issues in Suk Suk and Ellie & Abbie (& Ellie's Dead Aunt).
Being queer is a vastly different experience for every generation. Just as advocacy and awareness for LGBTQIA+ rights continue to grow, so do cultural attitudes towards LGBTQIA+ people and identities change within and throughout each age group. The experiences of LGBTQIA+ teens in 2020 differ greatly from teens 10 years ago, let alone 40. For many queer youth, the fear held by prior generations around homophobic violence and exclusion may seem foreign, while the relative ease and confidence of many of today's queer youth may seem intimidating to older generations, both within the LGBTQIA+ community and outside it.
This generational gap has been creeping more and more into queer discourse. As we see these intergenerational conversations online and out in communities, we also see them unfold in film. Suk Suk and Ellie & Abbie (& Ellie's Dead Aunt) both deal with the conflict that can arise between the newer and older LGBTQIA+ generations, as they grapple with empathising with the different paradigm each generation was born into. Despite the steep contrast in Australia's and Hong Kong's cultural landscapes, both films offer complex, analogous glimpses at the forgotten, hidden and taken-for-granted lives of older LGBTQIA+ people, and how their pasts impact their relationship with queer youth, and vice versa, in their respective social worlds.
Suk Suk is one of the first films to portray the lives of Hong Kong's elderly gay community, following retirees Pak (Tai Bo) and Hoi (Ben Yuen). Both men have families, but, in their retirement, conduct hidden love affairs, seeking out fleeting romances in back rooms and bathhouses where they can live and love other men authentically.
Based on oral histories collected by the film's writer/director, Ray Yeung, from Hong Kong's elderly gay community, Suk Suk pays a humbling tribute to this neglected social group. The film's heart may be the romance between its protagonists, but its soul lies in the respectful portrayal of Hong Kong's elderly LGBTQIA+ community's complex reaction to the proposal for an unprecedented gay senior citizens home.
A foundational scene showcasing Yeung's respectful empathy for Hong Kong's elderly LGBTQIA+ community – and their complicated connection with their younger queer peers – centres on a twentysomething queer activist who confidently presents plans for the aforementioned home to a grassroots collective of older men (to which Hoi belongs). Yeung lingers on close-ups of the old men's faces, framing their stunned expressions; we witness how the idea of spending their twilight years with likeminded friends is a welcome one. But the camera jerks to a wide shot of the group united in their refusal to speak publicly about how the home would benefit them. The eldest in the group explains that, many years ago, after he was spotted on TV at a pride parade, he was ostracised by his loved ones, and resolved to never again publicly identify as gay. The other men relay similar fears. Yeung then tracks the camera back as they walk away from the young man's proposal, intercut with a shot of his bewilderment; he doesn't quite grasp the lives these older men risk losing. Through this juxtaposition, Yeung highlights that building the gay seniors' home means risking those they sacrificed most of their lives to build.
The tension between the double lives that the elderly gay men are expected to lead plays out visually without judgement across the film. Yeung includes warm, naturally lit scenes of the gay men gathering in secret in candlelit apartments and bathhouses, where they openly discuss the forwardness of the young activist trying to build them the home. This is contrasted by harsh, artificial lights when they're alone with their families. They admire the young activist's willingness to advocate for them, but wistfully comment that the young man doesn't quite grasp what he's asking of them.
The friction between the progress possible in the eyes of a generation that was not forced into hiding and one that was intertwines with a rarely-seen, tender portrayal of elderly romance under Yueng's attentive direction. Suk Suk's portrayal of the gay generation gap is one of respect – and, importantly, of allyship between generations of queer people. By building upon the sacrifices made by queer generations before ours, we continue bringing our elders up with us.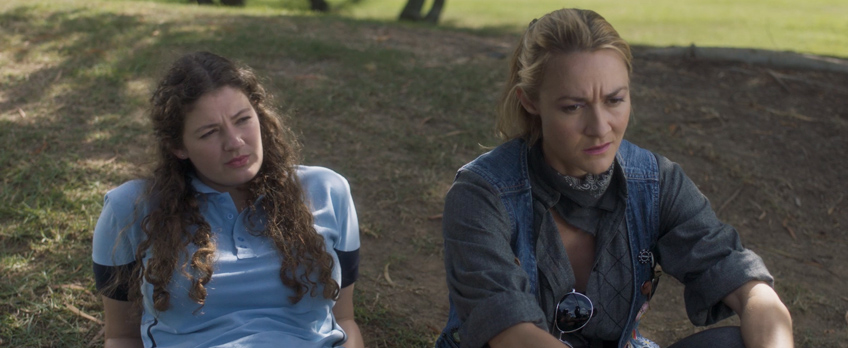 Above: Ellie & Abbie (& Ellie's Dead Aunt) | Header: Suk Suk

This same tension can be found in Ellie & Abbie (& Ellie's Dead Aunt), but is portrayed, in contrast, through the genre of teen comedy. Monica Zanetti's directorial debut follows Aussie lesbian Ellie (Sophie Hawkshaw), who, after coming out to her mum by informing her she's going to ask a girl to the formal, starts being haunted by the ghost of a lesbian aunt she never knew she had. Zanetti's clever use of comedy draws the audience in for a whole lot of giggles, but eventually builds to a tragedy later revealed. Meanwhile, Aunt Tara (Julia Billington), who died mysteriously young, randomly materialises again and again, at the worst possible moments, to bestow Ellie with unsolicited – and hopelessly outdated – advice, which Ellie understandably ignores. The young teen remarks constantly that things are different now and being gay isn't like how it was.
As the film unfolds, the question becomes less about Ellie's formal plans and more about why she never knew her aunt – and why her mum, Erica (Marta Dusseldorp), never mentioned her. Throughout the film, Erica's anxious tears and, initially, total silence in reaction to Ellie's sexuality seem like bigotry to Ellie. Conversations between Erica and family friend Patty (Rachel House) appear to be consultation about the teen's orientation. Finally, after Abbie (Zoe Terakes, also in MIFF 68½ film Call History) reveals that Aunt Tara was a gay rights activist killed during a peaceful protest in Sydney's Oxford Street, Ellie confronts her mum's secrecy and lack of apparent acceptance. Erica, in a stunning performance by Dusseldorp, explains how Ellie's coming out triggered memories of the fear and trauma over losing her sister.
Zanetti seamlessly embeds the tension between past and present queer generational experiences, utilising many teen rom-com staples typically reserved for straight romances – the film's upbeat split-screen montages of Ellie's school day; the big, ridiculous date proposal trope – to showcase how being queer now is more or less the norm. Yet Aunt Tara's continuous materialising, while hilarious in scenes where Ellie is trying to have a private moment, reminds the audience that as far and as fast as progress comes, the casualties live on in living memory.
Queer cinema has broadly sought to make those who may have felt invisible, visible. While Suk Suk and Ellie & Abbie (& Ellie's Dead Aunt) exist in contrasting genres and cultures, they share a desire to shed light on those often unseen even within the LGBTQIA+ community itself. However progressive the world becomes for LGBTQIA+ youth, Suk Suk and Ellie & Abbie (& Ellie's Dead Aunt) remind us to respect our elders and the generations that came before us who paved the way for the relative ease we now experience. The least we can do is pay tribute through film to the lives they may have led.
Suk Suk and Ellie & Abbie (& Ellie's Dead Aunt) screened as part of the MIFF 68½ program in 2020.