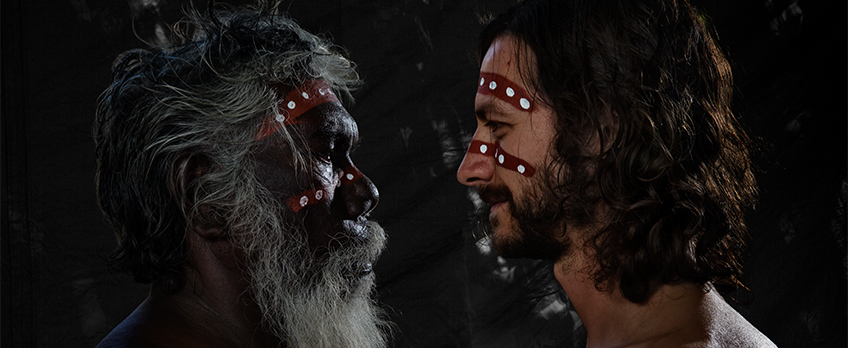 Q&A with Ben Strunin
Ben Strunin is the director of the MIFF Premiere Fund-supported film Westwind: Djalu's Legacy. He speaks with us about meeting Yolngu elder Djalu, and how his vision was the driving force of the film.
Westwind: Djalu's Legacy concerns Yidaki (aka Didgeridoo) master Djalu Gurruwiwi and his attempt to pass on sacred Songlines to the next generation. How did you first come across Djalu and what inspired you to film his story?
I was working on a different film in a different part of Arnhem Land with producer Kate Pappas. We met a gregarious, electric-eyed English Didjeridoo and Yidaki (Yidaki is the original Yolngu name for this instrument) collector called Colin Goring – aka Bear Love, deadset legend and master of the world's largest symphonic gong!
He had a Didjeridoo gallery in East London, close to where I was living at the time, and was travelling through Arnhem Land sourcing instruments. I returned to London, and a couple months later Colin called me and told me he had met his spiritual guru: Djalu Gurruwiwi. I had no idea who he was talking about, but Colin was bringing Djalu to London and wanted me to make a documentary about the tour.
Among other things, Djalu was intent on playing for the Queen as an act of reconciliation. So I met Djalu and his extended family (Dopiya, Jonathan, Balpatji and Jeremy) at Heathrow one early morning, and over the next few weeks he told me that he wanted a documentary made that would inspire the next generations back home, so they could see that Balanda (non-Indiginous) people treated him really well overseas and they could tread the same path. He also spoke of his wish to bridge the gap between Yolngu (his people) and Balanda people.
The performance for the Queen never happened; however, we travelled through mainland Europe together as Djalu worked his magic at different seminars and music festivals to thousands of fans. It was all a revelation to me, and I wondered why Djalu wasn't known more broadly, as he is an incredibly powerful, talented and charismatic personality. I could see him actively bridging the gap and healing people with his music.
We became closer and things grew from there. It was perverse that this Europe trip was a crash course for me in Yolngu ways that I never learned about in Australia, and it was clear Djalu's stories and songs were intrinsically linked to his land and I hadn't experienced them together. We talked about how I would have to come to Arnhem Land to his land to learn more. It took a while to get there, but was well worth the wait.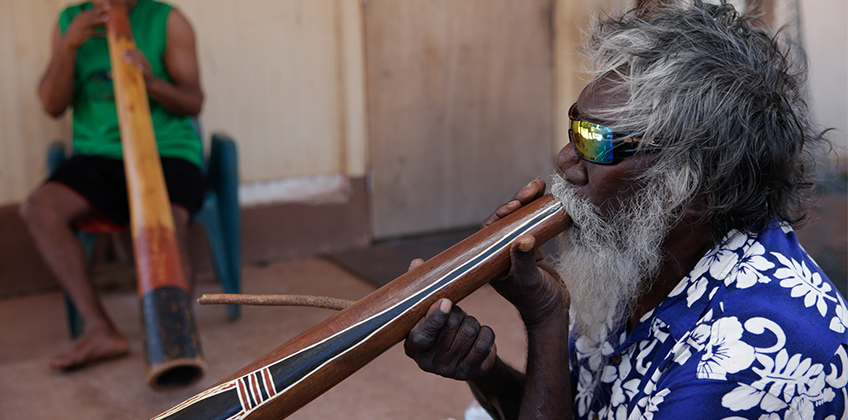 Westwind examines the life of Djalu and his family in intimate detail. How long did you spend with them before filming this documentary, and what approach did you take when planning these intimate shoots?
It took years after the initial Europe trip to get funding to go and visit Djalu. When I finally got there, I could sit down with Djalu and the family I hadn't met in Europe and listen to more perspectives on what was happening in their world. Over the years I made a lot of trips up there; I would film constantly and after each trip, watched the footage back to study. There was a lot of new information to process before going back for new experiences and to ask more questions. Often Djalu and family would tell me what I should and shouldn't film, and Djalu would tell the stories and put on ceremonies he believed were important to capture on film.
As the film has progressed, the film producers, Djalu, the family and I often sat down and talked about the story and where it was going. If I suggested I might bring some new Balanda friends up to meet them, the family was really accommodating. Things evolved and younger members of the family became a lot more vocal and engaged in the process, supporting Djalu's vision. There's no way we could have filmed most of this without the Gurruwiwi's guidance: they've facilitated some incredible experiences.
You've documented Djalu's journey extensively and captured lots of powerful imagery. What was your approach when editing down the material? What was the integral message of the film that you felt you had to deliver?
We had tonnes of footage, so some amazing stuff hit the cutting room floor and we could have told so many other interesting stories, but you have to be a little ruthless in the edit process and keep aligned with the chosen narrative.
I wanted to stay close to a narrative that incorporated the original messages Djalu kept repeating: Djalu wants to heal and inspire the next generations to keep their culture strong and he wants to bring Yolngu and Balanda people closer together. The sound of the Westwind carries the power to do both.
As a documentarian, you have the rare ability to share important and often lesser-known stories with the wider public, which you've done elegantly with Westwind: Djalu's Journey. For those of us who aren't making inspiring documentaries, how can we assist in raising awareness about these issues? What are the next steps you hope your audience take after watching your film?
If I could recommend anything as a Balanda wanting to learn more and if this film is a catalyst for anything, it's this: go up and meet Yolngu people, sit down with them on their land, don't be afraid to ask questions and listen to what they have to say. Buy some Yolngu art and instruments, not simply to consume but because these are objects that carry a lot of the stories you will be asking about; they can help your connection and understanding. A film can't really compete with firsthand experience, particularly when you're talking about connection to land.
Now that you've finished your first documentary, do you feel the desire to direct another one? What's next for you?
Oh yes! I am already making one that I put on the backburner to finish Westwind: Djalu's Legacy. I love documentaries so much that this one is basically a documentary about the importance of documentation.
Westwind: Djalu's Legacy will have its World Premiere at the 66th Melbourne International Film Festival; the world premiere screening will feature an exclusive yidaki performance by Djalu Gurruwiwi himself. Tickets are available now.