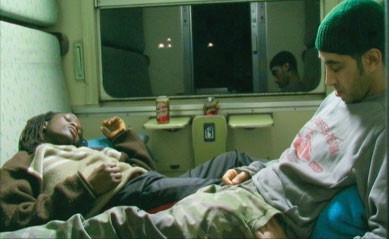 "Sud Express is a lyrical and arresting ode to a new era in Europe's lush and complex cultural landscape." - Toronto International Film Festival
Centred on the legendary train of its title, Sud Express is a portmanteau picture about six ordinary people whose lives are affected by their journeys on this railway line - a racist taxi driver and his unfaithful wife, an Angolan searching for a better life who befriends another African migrant travelling to surprise a girl, and a wheelchair-ridden passenger and his best friend.
Co-director, Chema de la Pena, describes it as "a visceral film, shot more from the heart than the head". Enacted in five different languages, Sud Express is certainly an ambitious venture and a poignant pointer towards a borderless Europe, displaying many stylistic traits of its intended form as a documentary - hand-held camera and a largely non-professional cast.
---
D/P/S Chema de la Peña, Gabriel Velázquez WS Sogepaq L Spanish, Portuguese, French, Arabic w/English subtitles TD 35mm/2005/103mins
Chema de la Peña was born in Salamanca, Spain, in 1964. His films include De Salamanca a ninguna parte (2002) and Isi/Disi (2004). Gabriel Velázquez was born in Salamanca, Spain, in 1968. His films include En Madison Siempre es Lunes (1996, short) and Charrosis (2002, short).