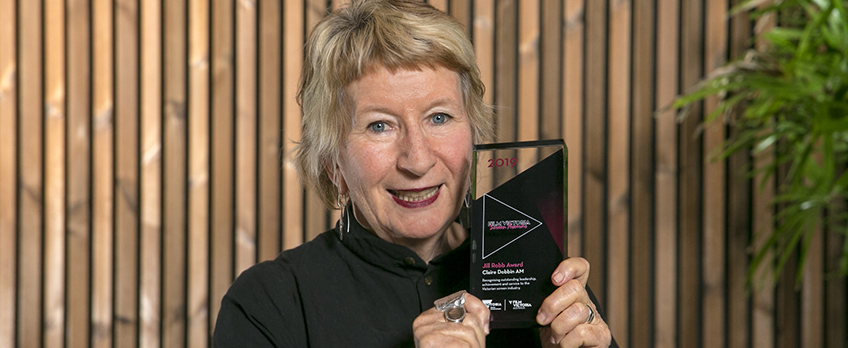 MIFF CHAIR CLAIRE DOBBIN AM WINS 2019 JILL ROBB AWARD
MIFF Chair Claire Dobbin AM was recognised in April with Film Victoria's 2019 Jill Robb Award for outstanding leadership, achievement and service to the screen industry. Below is the speech Dobbin gave when accepting the award.
---
Receiving this award is surprising and thrilling and humbling in equal measure. It's especially pleasing to receive an award honouring the great Jill Robb – a pioneering woman who never saw a glass ceiling she didn't want to smash. She was the inaugural head of Film Victoria and she has been followed by successive strong female directors – with a couple of blokes thrown in to meet diversity measures!
The thing about Jill is that she had a few things she wanted to say, and she was never going to shut-up until she had said them. In this, she was just like the writers all over the world that I have had the great good fortune to work with, and I will be forever grateful that they trusted me with their stories. In fact, all of us here should be grateful to them because it is the writers who help to define who we are and what we might be – and it is the writers who are the job creators. In this industry nobody has a job until the writer types: the end.
So, to the writers in the room, I hope you are channelling Jill Robb.
But by some divine intervention I am also immensely blessed to be the Chair of the sublime Melbourne International Film Festival, internationally recognised as the most significant screening event in Australia, but recognised by Melburnians as the lifeblood of a film-mad city.
MIFF would never have attained its iconic status without the support of the Victorian Government and Film Victoria. But it's not just the money – although we wouldn't be here without it – it is also the way all of you Govvy types show up and become film crazed champions of MIFF and the Victorian Screen Industry. We all love it, and so to do the audiences, who couldn't be prouder to live in a place that defines itself as the Creative State.
The fact is, MIFF could never have happened anywhere else. Where else is there a screen industry with the ecosystem that we have in Victoria? All of us – the Government, Film Victoria, ACMI, the practitioners and MIFF – are in it together, and each of us have our part to play in writing the story of film in Melbourne.
And here's the thing, it never gets any less urgent; there are stories to be told, films to be made and screened, and lives to be transformed. So this event tonight is an opportunity for the Victorian screen industry to come together and imagine the future of film in Victoria.
When I was starting out in this business I was fortunate enough to know everything. For some reason, I seem to know less now but the one thing I know for sure is that you are the story tellers. Our future is in your hands: you are the agents of change.
Give us films that illuminate our lives and make us understand ourselves better. We owe it to each other and to Jill Robb. Thank you Film Victoria for this award, thank you Jill Robb, and here's to raising hell together.
---
ABOUT CLAIRE DOBBIN AM
Melbourne International Film Festival (MIFF) Chair Claire Dobbin is a script editor who works with screenwriters and agencies in Australia, New Zealand, Asia, India, the Middle East and Europe. Dobbin is presently Deputy President of international script lab eQuinoxe Europe, having previously served for 14 years she as the Australian Film Commission's Senior Development Executive and Melbourne office director.
She has lectured at Melbourne University's Victorian College of the Arts (VCA), RMIT University, Abu Dhabi Film Festival and London's Royal Holloway and consulted to the Royal Jordanian Film Commission, the Rawi Sundance Film Lab, and the Asia Society Film Fellowship program of India, among others. She has served on the juries of India's Bengaluru Film Festival, Spain's Valladolid International Film Festival and Iran's Fajr Film Festival, among others, and the board of the Melbourne Writers Festival.
Some of Dobbin's script editing credits include New Zealand film The Dark Horse (selected for the Toronto and Rotterdam International Film Festivals), Finland's Stupid Young Heart (Toronto and Berlin), New Zealand's Show of Hands (Montreal), and Australia's Hounds of Love (Venice, Busan, SxSW, Karlovy Vary, Tribeca). Her numerous script consultations include Australia's Rabbit Proof Fence, Mallboy, Holding the Man, Candy, Palestine's Wajib, New Zealand's In My Fathers Den, Ireland's Life and Death of a Superhero, UK/NZ co-production Slow West, Irish/Cuban production Viva, and the UK's The Theory of Everything.