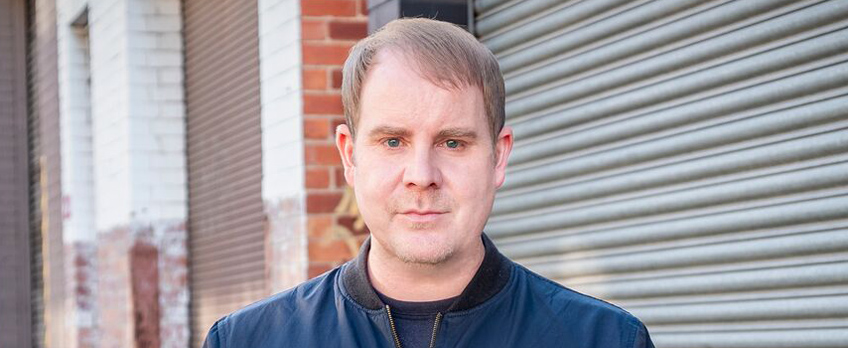 Meet MIFF Ambassador John Sheedy
John Sheedy is a multi-award-winning director whose work has been staged extensively throughout Australia. He has led productions for Belvoir St Theatre, Bell Shakespeare, the Sydney Opera House, Sydney Theatre Company and Opera Australia, among others, and has been recognised with multiple nominations and wins for the Helpmann and Sydney Theatre awards. From 2010 to 2015, as the artistic director of Barking Gecko Theatre Company, John staged several acclaimed productions including Hamlet, Storm Boy, Jasper Jones and The Rabbit, the last of which won four Helpmann Awards. From 2016 to 2017, John was the CEO and artistic director of Theatre Works, where he curated and produced two seasons.
John's first short film, Mrs McCutcheon, won 45 awards – including at the Screen Producers Awards, the Melbourne Queer Film Festival, the Australian Directors Guild Awards and MIFF – and has travelled to more than 130 festivals. His first feature film, H is for Happiness (MIFF 2019), won the 2019 CinefestOZ Film Prize and garnered a Special Mention from the Berlinale's Generation Kplus international jury.

---

MIFF has played a key role in my creative journey. Firstly, as an audience member and attendee, and then in 2017, as a participant in the MIFF Accelerator Lab program with my short film Mrs McCutcheon. More recently, I was thrilled to direct the MIFF Premiere Fund–supported feature film H is for Happiness, which had its world premiere at MIFF last year. I'm excited to have the chance to collaborate again: as a 2020 MIFF Ambassador, and directing the 30th anniversary live-streamed reading of Death in Brunswick. I'm looking forward to immersing myself in an exceptional program of world-class cinema in the festival's inaugural online event.

– John Sheedy

---

What are you most looking forward to about being able to attend MIFF from home?
While I will absolutely miss running around town from cinema to cinema, party to party, and catching up with friends, I think the online model has made the best out of a really ordinary/disastrous situation. We will still be able to access and enjoy world-class cinema that only MIFF can offer from the comfort of our couches. It instantly becomes dog-friendly, plus it gives anyone the possibility across Australia to join the festival, not just containing it to a local Melbourne audience. I personally will be enjoying it from my penthouse in Lorne.

How would you describe the transition from working in theatre to filmmaking?
I have been directing theatre and opera for the past 15 years, so the shift into filmmaking felt like a natural extension to the skill set. Having said that, there is a completely different vocabulary and technical aspect to filmmaking, of course, that you can only really learn on the job. One of the major differences between theatre and film is that, in film, you get a budget and departments, and more departments, and then departments for those departments. It's a whole new world! So it was incredibly exciting, but it also felt incredibly ambitious at the time, having landed the gig straight off the back of Mrs McCutcheon. There were a lot of nerves leading up to pre-production; however, the producers and I had also assembled a super talented team of creatives, so I knew I was in very skilled and supportive hands.

What was your experience of MIFF's Accelerator Lab like?
MIFF's Accelerator Lab played an integral part in the development of my career as a filmmaker by opening doors that can usually be difficult to access in the industry, and then by supporting my first feature film with the MIFF Premiere Fund. It was exciting to return two years later with H is for Happiness and share my experiences with a new selection of Accelerator Lab filmmakers.
The program provides unique access to some of the industry's top directors, producers, financiers and actors. It gives short filmmakers the information and opportunity to develop industry knowledge, understanding and relationships to transition to feature filmmaking. It is incredibly unique and plays an important role in the shaping and development of a new generation of Australian filmmakers. It also comes with fancy dinners and lunches for starving artists!

How vital is it that cinema cross-pollinate with other art and cultural forms, and vice versa?
The creation of art is a collaborative activity; any art form, whether it be filmmaking, theatre, opera, music or dance, requires a group of artists and an audience. Cross-pollination offers us a reason to come together and share ideas and experiences. We need collaborative art forms to keep us connected!

What role does art play during these difficult times?
Storytelling bonds communities; it gives us a shared experience and forges connections among people, between people and ideas. Engaging in film and theatre allows us to escape the realities of the day-to-day, which we need now more than ever. It allows us to think and see things differently – to engage our imaginations in ways that are surprising and sudden. Stories convey culture, history and values that unite people and, most importantly, they entertain us. The world has become mean-spirited, and we have lost the ability to laugh at ourselves and celebrate our flaws and differences. We have lost our sense of humour. I would like more laughter, please! More Schitt's Creek on the menu!

John's MIFF 68½ Picks:
Check out the full MIFF 68½ program here.