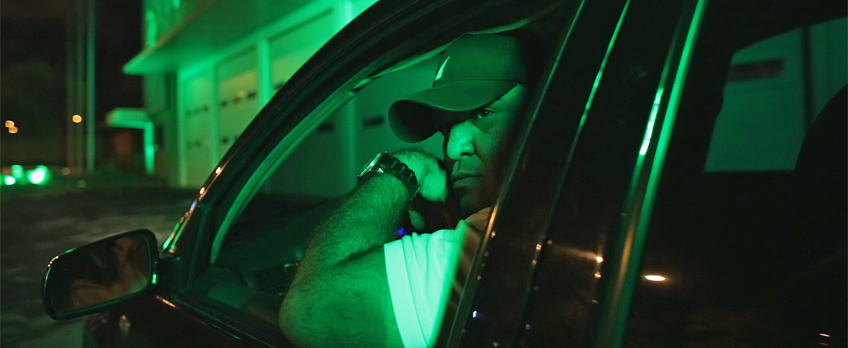 "Like a Voyeur Watching a Voyeur": An Interview with Alex Roberts and Daniel Leclair
Warning: This piece discusses physical and sexual violence.
The grey area between vigilantism and voyeurism is unnervingly portrayed in The Meddler, an Australian documentary co-directed by Alex Roberts and Daniel Leclair. The central figure is German Cabrera, a mechanic by day who stalks the streets of Guatemala City at night with his camera, capturing gritty crime scenes and many, many dead bodies. He offers the footage for free to the local news in his personal crusade for justice.
Leclair got to know Cabrera when he was working for an international wire service in Guatemala. But it wasn't until Leclair, Roberts and cinematographer Darren Hauck met in Malawi that the campfire stories Leclair told about Cabrera spun themselves into the potential for something more. They decided to turn the camera on him and see what happened. The film follows Cabrera for seven years, revealing a divisive character and a city wrecked by crime.
With The Meddler screening as part of the MIFF 68½ program, Critics Campus 2020 participant Michelle Wang speaks to Leclair, who shot much of the footage in Guatemala, and Roberts, who was also one of the editors, based in Australia.

Michelle Wang: Working with such an intriguing character in one of the most dangerous cities in the world, did you find yourself in unexpectedly challenging circumstances while filming?
Alex Roberts: I remembered there were moments when the camera would be filming and someone would pop [their] head through the window, and all of a sudden you can hear Daniel saying, "Cameras off," or "Put your cameras down." It gets very tense depending on the type of characters they get involved with.
We didn't actually use this, but there was a scene where German's picking on this guy who's considered a gang member. The camera goes down and it's in Daniel's lap, so he's shooting across German out the window. The gang member pops his head through the window and German takes his hat off just to show his face. Then, what was it that he said to German?
Daniel Leclair: He said, "Look, I like you guys so it's not gonna be me, but they're gonna kill you." For German, you know, there would be a chopped-up body outside his house with a note on it – for German, of course. But his reaction was, "That's not for me, that's for the mayor." It took him a very long time to finally accept that that was a message for German. That's what it's like working around this guy.

Do you think German ever had a sense of fear about what he was doing?
DL: I never saw any fear in German, to be honest.
AR: He certainly talks about not having fear. He says that it's because he feels chosen and he's invincible.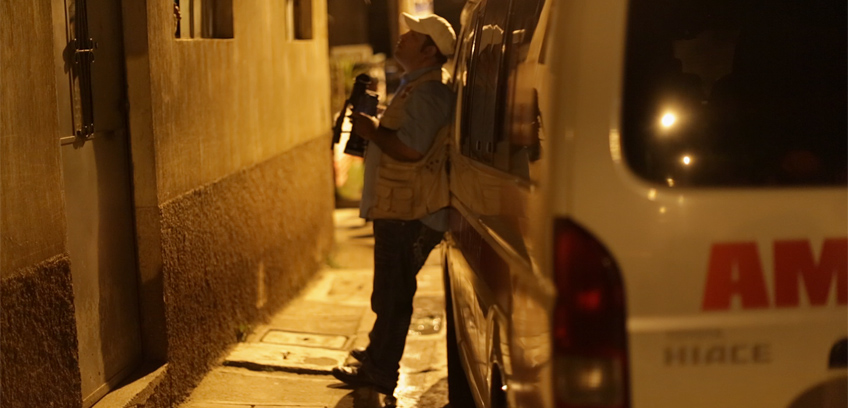 The Meddler

I realised when I was watching the documentary that the camera is really German's weapon of choice, and his vigilantism verges on voyeurism. Did you consider how you might be replicating the voyeuristic aspect?
AR: This is what benefited us in terms of our process because I was not on the ground there. So Daniel and Darren were capturing it as it happened, and I was getting footage intermittently and making my own opinions of it. One of the early things that struck me in the footage was that element of voyeurism, which was multiplied by two. We're voyeuristically looking at a voyeur.
This film is confronting, but it's not going to be very appealing to countries that suffer this kind of thing – it's in no interest to them. It's far more fascinating to people who have come from where we come from, essentially, because we don't see it every day. So I did immediately have this feeling of being like a voyeur watching a voyeur. Very strange.
DL: I had the luxury of being able to say, "I'm not going any further." We really pushed it, but there are moments when the guy does go too far. You have to decide how long you're going to be there for.

Was there any footage that you considered removing for those morally uncomfortable reasons?
AR: There's a scene – and I know this was very uncomfortable for you to shoot, Dan – [wherein] German essentially harasses this woman and chases her down the street. It's a bit of a turning point in terms of how you might feel about him as you start to see another side of him that's very unsavoury.
We originally had that scene in, and I did some audience testing. For them, immediately, he becomes quite unlikeable at that point, so I took it out. We went to show German and one of the first things he mentioned – apart from it not being violent enough – was, "What about that scene?" because he knew we'd shot it. And we just admitted to him that we didn't think it presented him well. And he was like, "Oh, but it happened; it's true." And that was probably the most insightful thing for me. Let people decide for themselves how they feel about him.

The film made me think about how contemporary the idea is of any of us picking up a phone and starting to record what's happening on the streets. That's even more topical of late, with the George Floyd video or anti-maskers going viral. Did you consider that this documentary might have that timely message, and that this is about our relationship to capturing and distributing footage?
AR: Our output is an extension of his motives. In fact, we're showing what he's showing to a greater audience through the means of online media or filming. It's going to draw more people to his own sources, on YouTube. People might be more interested in what he's doing. It may be good publicity for him. It is very much a film about filming and sharing information.
The Meddler screened as part of the MIFF 68½ program in 2020.

If you or anyone you know needs support, you can contact 1800RESPECT – the national sexual assault, domestic and family violence counselling service – on 1800 737 732.