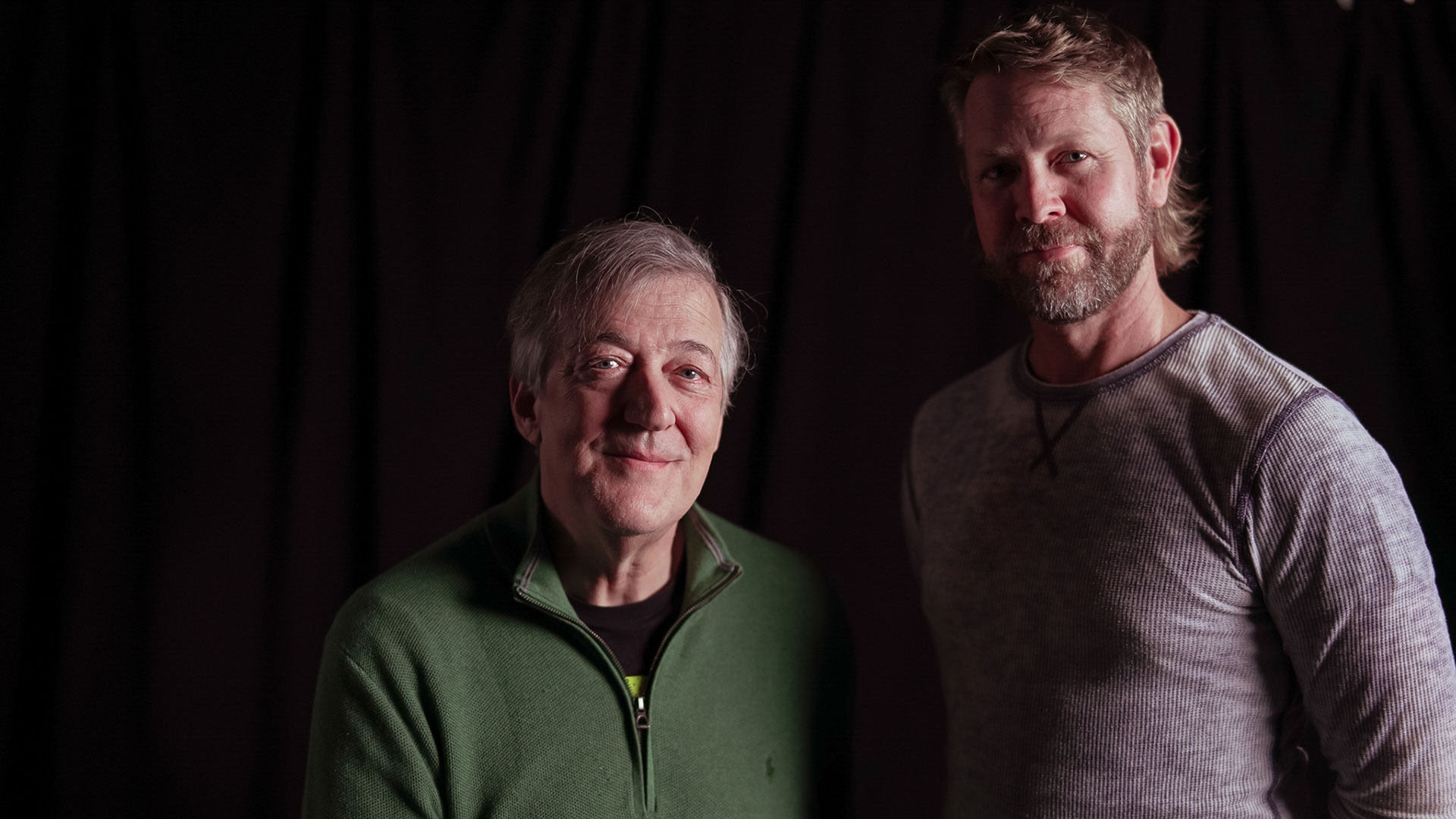 Hating Peter Tatchell – Q&A with Christopher Amos
From producers Veronica Fury (Electric Boogaloo, MIFF Premiere Fund 2014) and Lee Matthews (Emo the Musical, MIFF Premiere Fund 2016) and debut feature director Christopher Amos comes this biographical account chronicling Peter Tatchell's ascension from budding lobbyist to agitator extraordinaire. Propelled by forthright, sometimes indicting recollections from Tatchell himself, this MIFF Premiere Fund–supported film shows that change-making is difficult work – and that beneath even the most fearless warrior is a fragile human heart.

Hating Peter Tatchell explores the life and campaigns of the titular Melbourne-born, London-based human rights activist, who is particularly known for his work advocating for LGBTQIA+ rights around the world. Why did you want to make this film?
Chris Amos: Naturally, Peter's activism inspires me, so my ultimate goal is to share this for others to appreciate. His Aussie-moving-to-London journey also resonates with me. Peter and I first met in 2000, when I was editor of Bent magazine; Peter regularly contributed articles. I was surprised by how many in the LGBTQIA+ community derided his work, despite the huge contribution he was making to advancing our rights. This struck me as an interesting premise for a story about his life, something that could be explored in 90 minutes that would add an extra layer to a biographical account of his life. I want to highlight his achievements yet explore his motivations, so we as an audience can appreciate Peter's life through these turning points.

Elton John and David Furnish are credited as executive producers on this film. How did Elton and David come to be involved in this project?
When we filmed the master interviews, Elton was on tour, so he couldn't take part. I knew David and he was supportive of the documentary. Therefore, it made sense – to me, anyway – to request a song from Elton's back catalogue and have this play over the closing credits with the montage sequence of Peter holding campaign placards. Elton and David agreed and allowed us to use Believe; the lyrics are perfect. Following this, Elton and David watched an early cut of the film and loved it. They wrote me a beautiful email: "We were so overwhelmed with emotion. It was fantastic! It's so compelling – and such a harsh contrast to the disappointing times we are living in. An important cinematic milestone that properly celebrates a true hero." This led to them boarding the film as our esteemed executive producers. I am so grateful. They play such an important part in the equality conversation; their support for the film opens doors and brings Peter's story to a wider audience.

By documenting Peter and involving some of his contemporaries, including Sir Ian McKellen, Stephen Fry and many others, you sketch a history of the gay liberation movement. From your perspective, how has gay liberation influenced LGBTQIA+ people today, and how do Peter's campaigns relate to issues for today's rainbow communities?
The spotlight on equality is shining brighter than it ever has. This is seen particularly in representation in mainstream television shows, movies and entertainment generally. Increasingly so in sport, too. I am optimistic; I hope the younger generation will continue to be progressive. The LGBTQIA+ community has expanded considerably – there is more visibility than ever. This is scary for the establishment in many parts of the world. And there are fractions within the LGBTQIA+ community. I hope they can galvanise their various agendas, let common sense prevail, bring the community back together and carry on fighting for equality. Peter's campaigns continue to be relevant; they always will be. We need to fight for equality in countries where voices are not heard as loudly. Muslim solidarity with the LGBTQIA+ community is a frontier where we need to keep pushing the gay liberation message to free our siblings in these communities.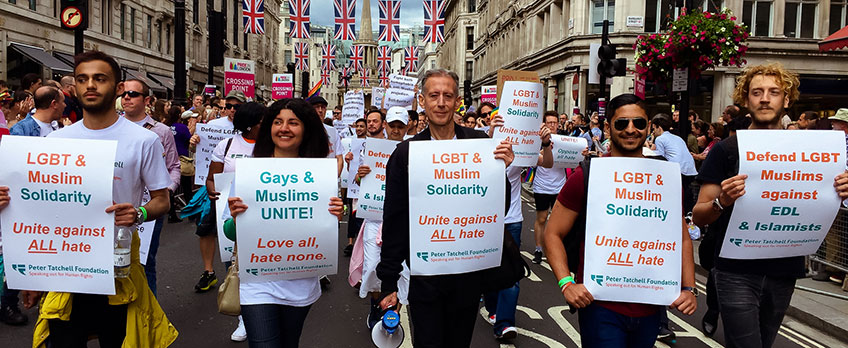 Hating Peter Tatchell

More broadly, how do you think the film speaks to the present moment in terms of human rights and activism? What are the lessons from observing Peter's activism?
Although a supporter of Peter's work and achievements, I knew early on in the process that it was important to allow opportunities for opinions that oppose his activism. First of all, it would be poor journalism to not give alternative opinions airtime. Furthermore, hindsight is a powerful way of highlighting just how much progress has been made. Peter was ahead of his time. He has an instinct for what is fair and equal in society. When I was watching the hundreds of hours of archives, I was shocked by some of the views that made it onto television talk shows at the time. Some of this footage in the film was not archived and is only being shown again for the first time because Peter kept VHS tapes of the shows. It's important that we don't hide history; we can learn from this. It's important, for progress, to listen to opinions that are different from our own, even when we disagree.

Some of Peter's activist tactics (such as 'outing') were very controversial at the time, and invited ethical debate. How do you think activism has changed in the digital age?
I feel activism is having a renaissance currently. For a while, people did get comfortable behind their screens, signing petitions, donating to charities, but at the same time, the digital age has seen mass information distributed globally. People are across a lot more issues than two decades ago. There seem to be people on the street, with protests happening daily now, powered by digital marketing campaigns to drive people to attend these events. I think we will continue to see more and more demonstrations, particularly around climate change. Hopefully also in countries where your sexuality is still a crime. Education and visibility are the best ways to fight discrimination. The internet has taught younger generations more about equality and diversity, particularly in Western culture.

Who do you hope will see this film? What do you hope audiences will take away from this film?
I hope audiences in countries where sexuality is criminalised will watch Hating Peter Tatchell. The film was made to last over time, as I think future generations can enjoy this hero's journey and be inspired, feel moved by Peter's story, and be motivated to do something, to carry on this fight for equality. Many people often ask what they can do: how can one person do anything that will change the world? Well, in Peter's case, he doesn't wonder what he can do; he does something. I personally am motivated by Peter's determination to bring about equality for all – this is something each one of us should be fighting for. Stories like Peter's inspire us to get out there and demand change. To take action, to use our voice. Over the past half-century, Peter's journey highlights the advances in the gay liberation movement, which should give hope to the audience.

There are so many amazing instances of activism throughout Peter's life. How did you choose which to include?
I started with a chronology of what I called Peter's "Greatest Hits". Eventually, the moments were narrowed down to fit a story arc; also, the quality of archival content steered this a little, too. To condense seven decades into a 90-minute documentary is not an easy task. I sincerely hope audiences not familiar with Peter's activism will research him. There is a closing-credits montage of Peter with placards highlighting some of the many causes he has supported. Perhaps I will be commissioned to make a 10-part series and we can try and fit the other historical moments in.

Hating Peter Tatchell screened as part of the MIFF 69 program in 2021.