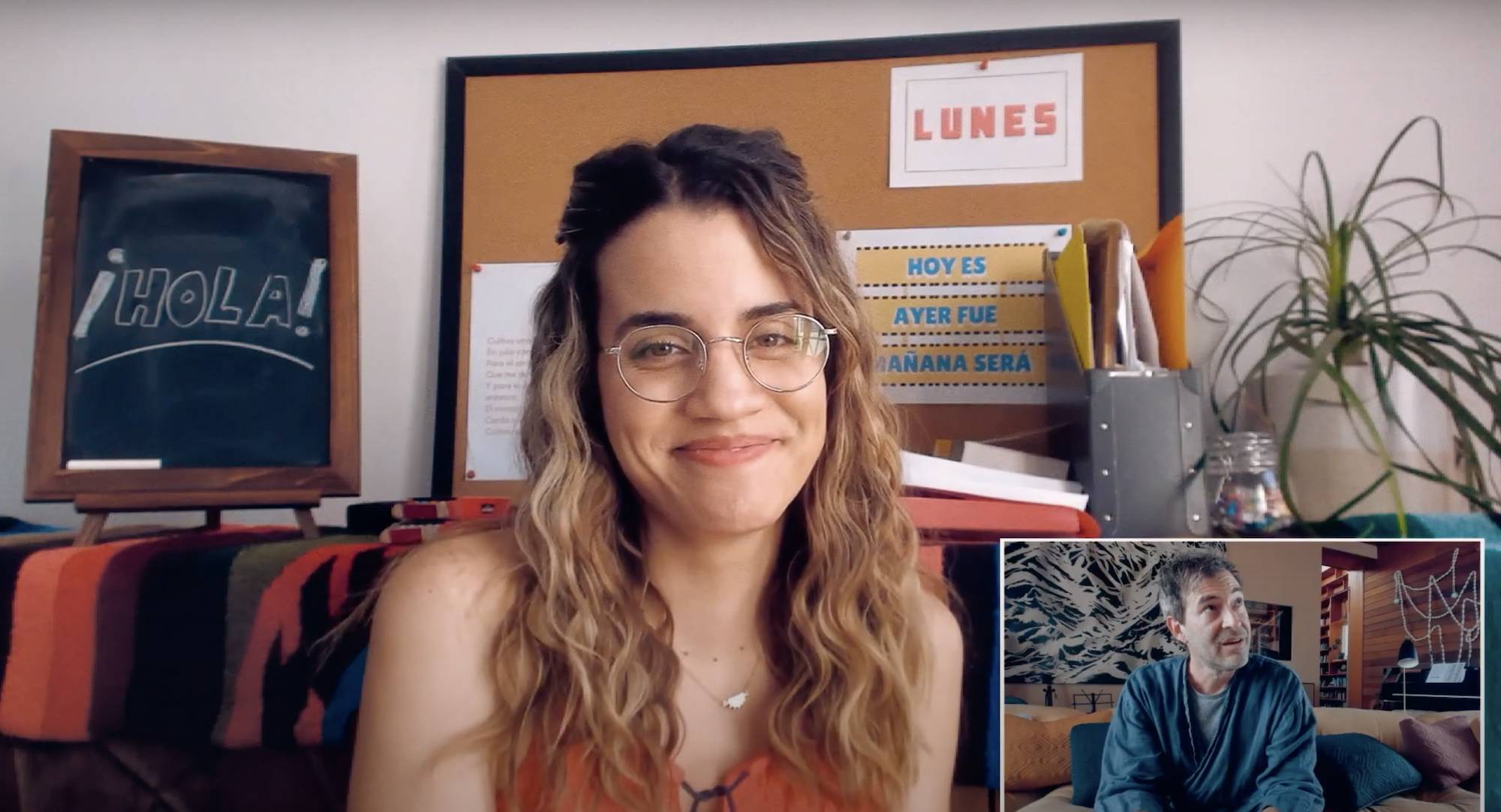 Harder, Better, Faster, Stronger: Funny Women Conquering Screens Big and Small
Critics Campus 2021 participant Charlotte Daraio explores humour, versatility and gender politics via Language Lessons, The Nowhere Inn and Together Together.
The question 'What's it like to be a woman in comedy?' has become a journalistic catcall of sorts, tainted with decades of incessant debasing. In today's cultural climate, it's nearly impossible to read or write the phrase 'women in comedy' without cringing. It's strange to feel the need to teeter around it, however, because without it, it's difficult to separate categorically revolutionary comedians like Lucille Ball, Joan Rivers and Mindy Kaling from the masses. Women in comedy don't deserve to be thrown into the same mixed bag as hackneyed genitalia jokes, sexual-assault scandals and general egomania that continues to see minorities ostracised in the broader comedy world. Maybe it isn't the phrase 'women in comedy' that we should be avoiding, but rather the context in which it's typically used. We don't need to ask women in comedy what it's like to be a woman in comedy, because we already know: it's groundbreaking.
This year, a multitude of funny women have showcased their creativity and versatility in the comedy realm. MIFF 69's line-up alone highlights a current boom of women shifting from stand-up and comedy television to internationally acclaimed independent cinema, whether as performers, writers, directors or a combination of all three.
One such woman is Patti Harrison, a comic whose range spans from crude online jokes to a zany sincerity that she exudes in her role in Nikole Beckwith's Together Together. Starting as a stand-up before starring in comedy cult series Shrill and co-writing and performing in the second season of I Think You Should Leave, Harrison has cemented abruptness, dramatisation and vulgarity as her signature traits. She often parodies common comedy tropes to highlight issues and stereotypes surrounding gender identity and sexuality. Like many women in the industry, dating back to Moms Mabley, Harrison uses comedy as a rhetorical tool to subvert expectation and unsettle the status quo.
Together Together similarly destabilises its viewers. Focusing on the platonic relationship between soon-to-be-father Matt (Ed Helms) and his gestational surrogate Anna (Harrison), the film comments on society's views on pregnancy and motherhood. Together Together's female-gaze subversion of gender and relationship clichés that plague cinema is hilarious, but also deeply sincere. It may seem jarring that Harrison, whose goofy online persona is obsessed with making jokes about horny old people and farts, so effectively communicates the emotional weight of her character. When assessing the content of the film rather than the tone, however, it's clear that, while displaying an inordinate amount of flexibility in the role, Harrison stays true to the particular style of cultural commentary she's known for.
Harrison's often lowbrow sense of humour reflects the zeitgeist in extreme and refreshing ways. It saw her banned from Twitter for impersonating an American cookie brand to weaponise the conversation around cancel culture, and it landed her on Jimmy Fallon's late-night talk show to discuss Donald Trump's ban on trans people in the military. The clever and zany way in which Harrison makes difficult topics accessible is what allows her brand of humour to so smoothly transition from the small to the big screen.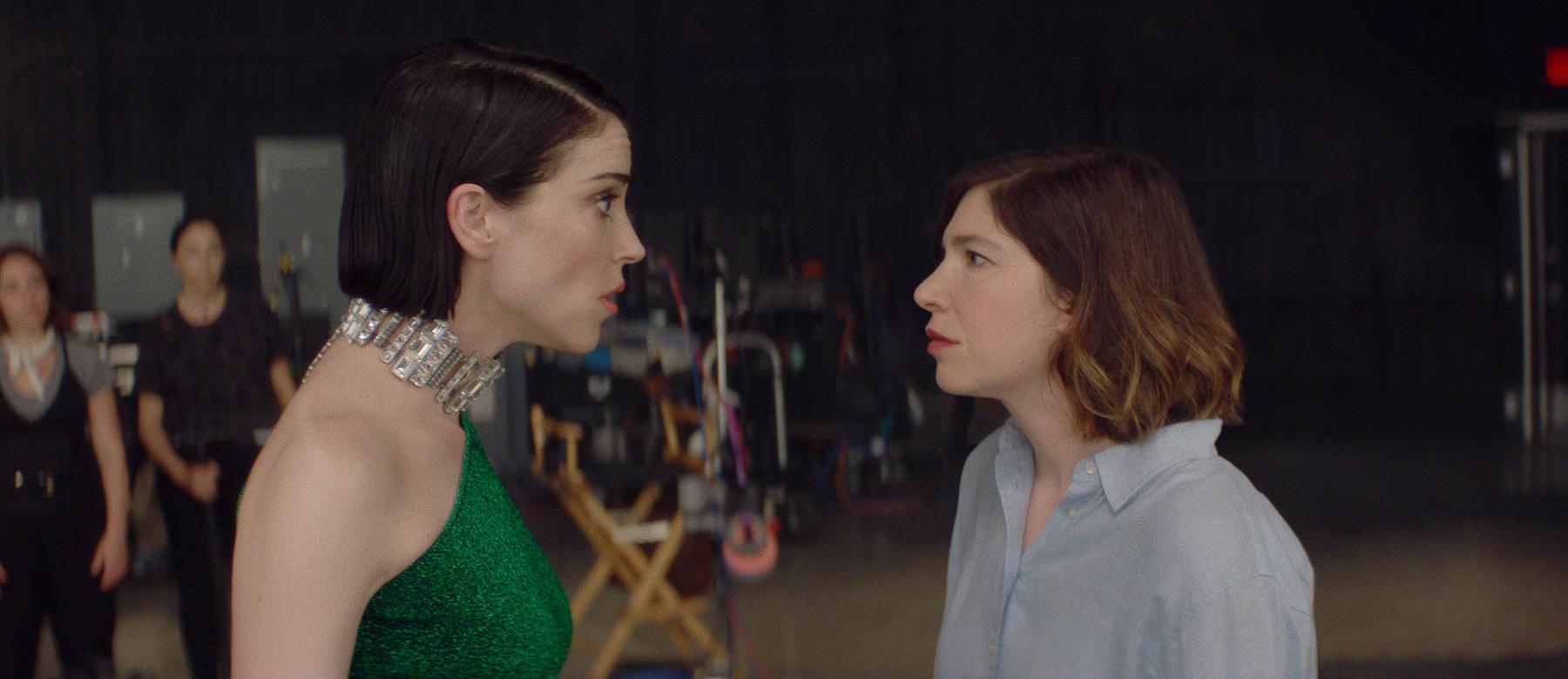 Above: The Nowhere Inn | Header: Language Lessons

While women haven't exactly invented the idea of platform-crossing, they're visibly exploring contemporary comedy in new and exciting ways. By breaking the boundaries between highbrow and lowbrow, women in comedy are creating inclusive content that can be enjoyed by everyone, paving the way for clever, socially minded comedy across media.
The comedic flexibility evident in Together Together can also be seen in other woman-driven comedies across the MIFF 69 program. There's Language Lessons, co-written, directed by and starring Natalie Morales, whose background includes a starring role in comedy series The Grinder and a recurring role in sitcom Parks and Recreation. Likewise, The Nowhere Inn stars and is co-written by Carrie Brownstein, who made her comedic breakthrough with Portlandia, a sketch comedy series that she co-created.
Like Together Together, both Language Lessons and The Nowhere Inn use comedy to explore gender politics in groundbreaking and unique ways. The former, a film about the friendship between Spanish tutor Cariño (Morales) and her male student Adam (Mark Duplass), proves that contextually deep stories don't need high budgets or consistent drama to be meaningful. Language Lessons is peppered with humour and silliness but maintains stoic undertones. Breaking up heaviness with perfectly timed comic relief, Morales uses the Zoom structure of her film to challenge dominant assumptions about the male gaze.
The Nowhere Inn, a mockumentary about St. Vincent's life and music, starts out similarly. Brownstein plays to type by appearing as a hyperbolic version of herself, as she does in Portlandia. But, while the film begins as a typical mockumentary, using awkward moments of tension as its basis for humour, it soon derails into something much darker and more abstract. The Nowhere Inn slowly turns from a lighthearted flick about friends on the road into a surreal landscape, verging on horror. It uses its tonal shifts and the backdrop of the entertainment industry to discuss femininity itself as a performative act.
Despite their differing comedic tones, Together Together, The Nowhere Inn and Language Lessons all embrace innovation. While they exhibit the authority of their authors over certain sociocultural matters, they don't alienate audiences with their creative expressions. As Beckwith herself stated in an interview with Observer: "Part of feminist filmmaking is deepening the representation of women onscreen and also deepening representation of men. Feminism is for everyone."
Women reclaiming and telling their own stories is still intrinsically novel in the comedy industry, despite the long history of women working within it. Trailblazing women in comedy who create poignant cross-platform content, such as the women championed in this piece, are definitely worth celebrating. Let their brows hang low.

The Nowhere Inn and Language Lessons screened as part of the MIFF 69 program in 2021.