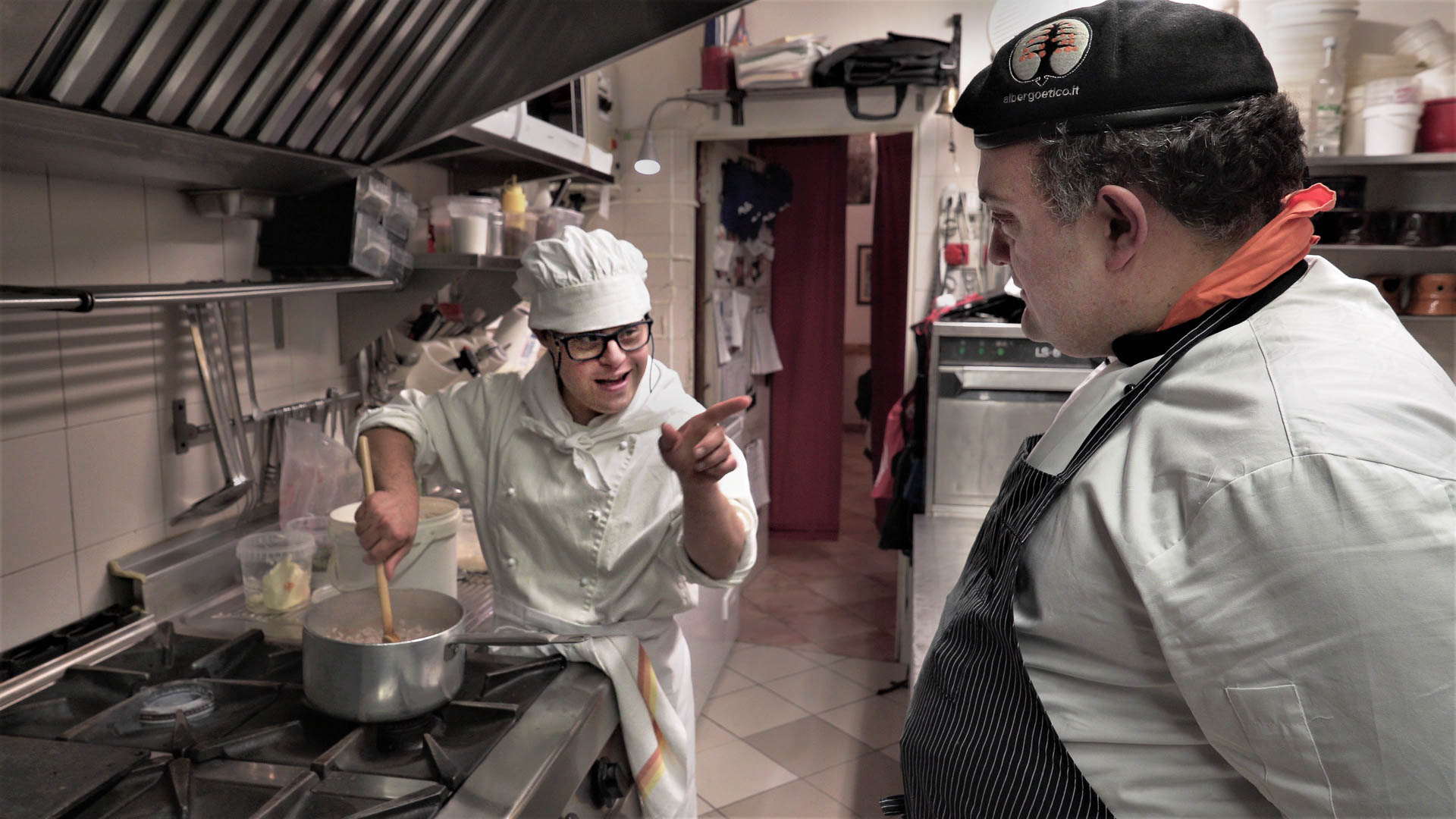 The Sweet Spot: An Interview with Trevor Graham
Critics Campus 2021 participant Ying-Di Yin speaks to Chef Antonio's Recipes for Revolution director Trevor Graham about documenting the intricacies of life, labour and love, as well as building trust with one's film subjects.
"A simple truffle pasta is sensational!" exclaims Australian documentary maker Trevor Graham. "I have a real liking for truffles because, in the Piedmont area, truffles are a specialty. And not far from Asti, about 40 minutes away by car, you get the famous white truffle, which is the most expensive and the most delicious that you can get."
This wealth of truffle knowledge is the result of having spent three years travelling back and forth from Sydney to Asti in north-western Italy to film Chef Antonio's Recipes for Revolution, a behind-the-scenes documentary about charismatic chef Antonio de Benedetto and his hotel-restaurant staffed by young people with Down syndrome. Through food-making and hospitality, the chef aims to change the lives of people with disabilities, offering them community, connection and, most importantly, independence.
De Benedetto's mission aligns perfectly with the impetus for Graham's documentary work. In Chef Antonio, the final instalment in the filmmaker's culinary trilogy – the previous titles were Make Hummus Not War (MIFF 2012) and Monsieur Mayonnaise (MIFF 2016) – he once again uses food as a vehicle for tackling bigger themes, including social inclusion and acceptance. "I wanted the advocacy to come out of the story and the experiences of the characters," says Graham. "That was important, and I think we achieved that." For him, viewers' familiarity with enjoying and eating food ensures these ideas are expressed in a humanistic and empathetic way: "If you're satisfied, if you're feeling that your tastebuds have been tantalised, then you're in a more relaxed state of mind to encompass some other ideas."
Graham first heard about de Benedetto through friends from Sydney who had recently visited his restaurant, the Tacabanda. "Tracey and Andrew invited me over for dinner and pitched me this story. Tracey was very excited about the possibility of what this [operation] could mean for people with intellectual disabilities in Australia," he recounts. "She thought it could revolutionise the broader community and engage with people with disabilities – but, more importantly, how they could be employed in a way that could lead to independent living."
After doing his own research, and within eight weeks of discussing the pitch with cinematographer Jenni Meaney, Graham found himself on a plane to Asti. Upon arriving there, he was immediately blown away by the Tacabanda and its parent hotel, the Albergo Etico. "There was this enormous engagement within the workers, the restaurant and hotel workers," he recalls, "an enormous amount of affection that they drew from each other by their experience together, but also from the general public they were serving."
"It's quite a love story, too," the director adds. As he observed and filmed, Graham discovered many forms of love. "The love between [subject] Mirko [Piras] and his fiancée, Francesca, gives you a sense of what it's like to be in love when you have Down syndrome," he says. "But we also get a sense of what it's like to be a mother with an adult child with Down syndrome. For that to be a loving relationship and also encompass all the difficulties that it does, it shows that Chef Antonio is a feel-good film but with a fairly high dose of reality as well – things are difficult, and it's not just a smooth ride."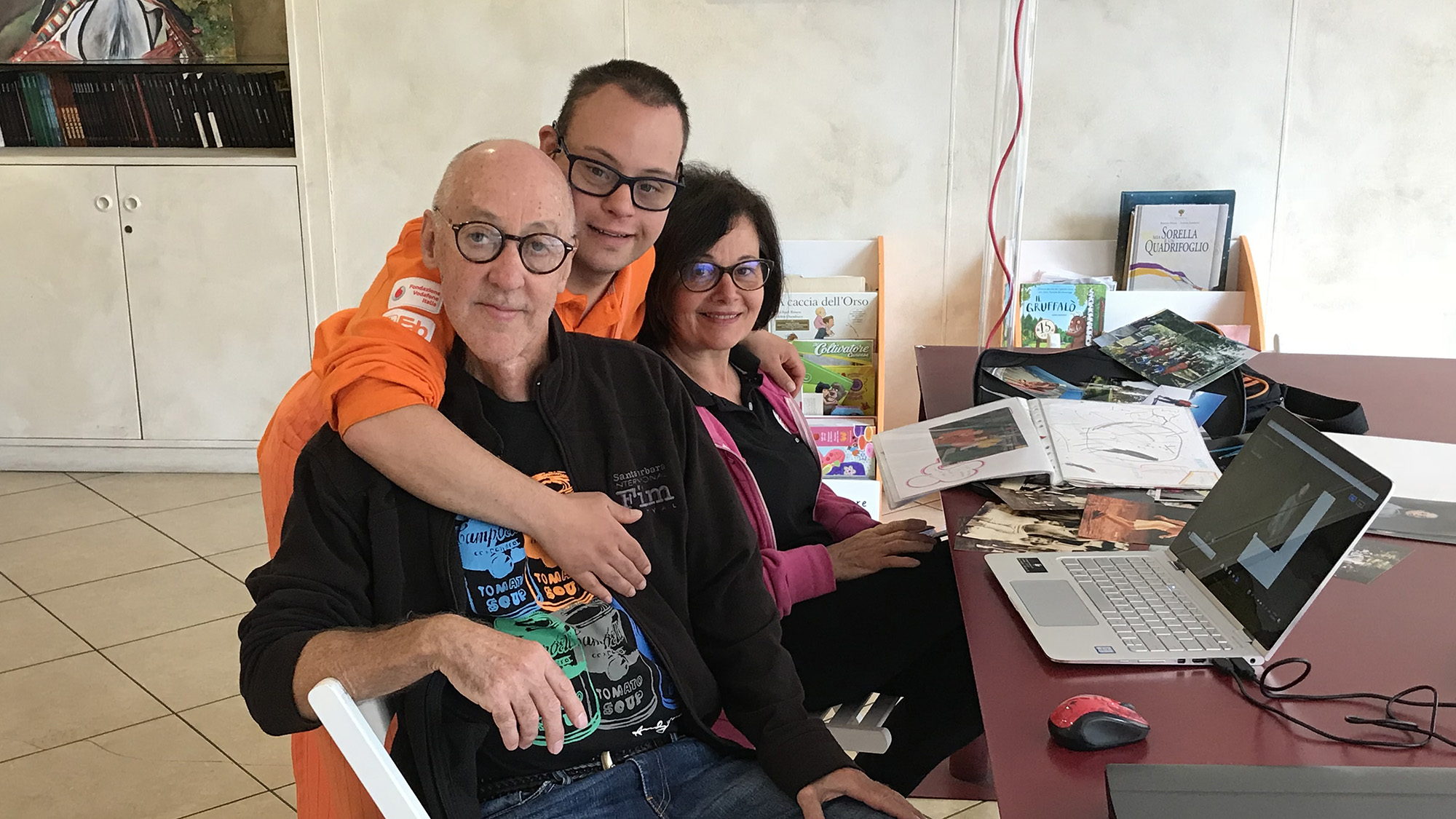 Above: Director Trevor Graham with subjects Mirko Piras and Franca Novello | Header: Piras with chef Antonio de Benedetto

Thrust into the demanding environment of hospitality, we see not just the staff's highs and lows, but their passion and honesty. Niccolò Vallese, the Tacabanda's lead waiter and sommelier, runs up and down the stairs during peak service, swearing under his breath, while Piras recalls crying from the pressure when he first started work. There's no denying that their tasks can, at times, be challenging; however, we also see the growth and joy they all experience, along with their lively responses to food, love, arguments and friendships. It's this distinctly Italian effervescence that inspired the documentary's visual style, which intersperses everyday footage with black-and-white scenes, fantasy re-enactments and animation. "I grew up watching a lot of Italian films from that classical era − Fellini, Pasolini and Antonioni. I have a real soft spot for that era and I love the characters. So, often, when I was staying at Albergo Etico or at the restaurant, I felt like I was living in an Italian film from that period," reflects Graham. "[The staff] are expressive in the way they talk and behave and respond to each other; they are loving and not scared to hug or tell you how they feel."
Capturing this type of candidness requires trust between filmmaker and subjects. Over the three-year shooting period, Graham says he "became just like another kitchen utensil": "It allowed for that sort of fly-on-the-wall, observational filming, and I think that only comes about from spending a long time with people so they get to know me, and I get to know them, and that trust builds up." Despite the language barrier, Graham formed a close bond with Piras and fellow subject Jessica Berta, and the experience reaffirmed for him that "if you put a lot of time and commitment into spending time with people – and not just filming them – then you become part of their lives … If you can get to that sweet spot, then it can be pretty rewarding."
De Benedetto's hotel-restaurant has, so far, trained over 100 staff, and his next mission is to bring his operation's ethical framework to other countries. Since the completion of the documentary, new hotels inspired by the Albergo Etico and the Tacabanda have opened up in Argentina and Slovakia, with seven more planned for Italy. There's even one in New South Wales: "A hotel opened in the Blue Mountains in October last year," says Graham, "with the grand opening delayed for after COVID."
It's an amazing feat and a model that works. Simply put, Graham concludes, "We all need something to do in life. We all need someone to love, something to look forward to, and if you have all those things in place, then life can be pretty enjoyable. And you can live life to the fullest. That's true for all the folks in the film that have that opportunity … That's what I want the takeaway to be from Chef Antonio. Oh, and to experience a really juicy meal!"

Chef Antonio's Recipes for Revolution screened as part of the MIFF 69 program in 2021.