Hope's Waiting Room: Alice Englert on Bad Behaviour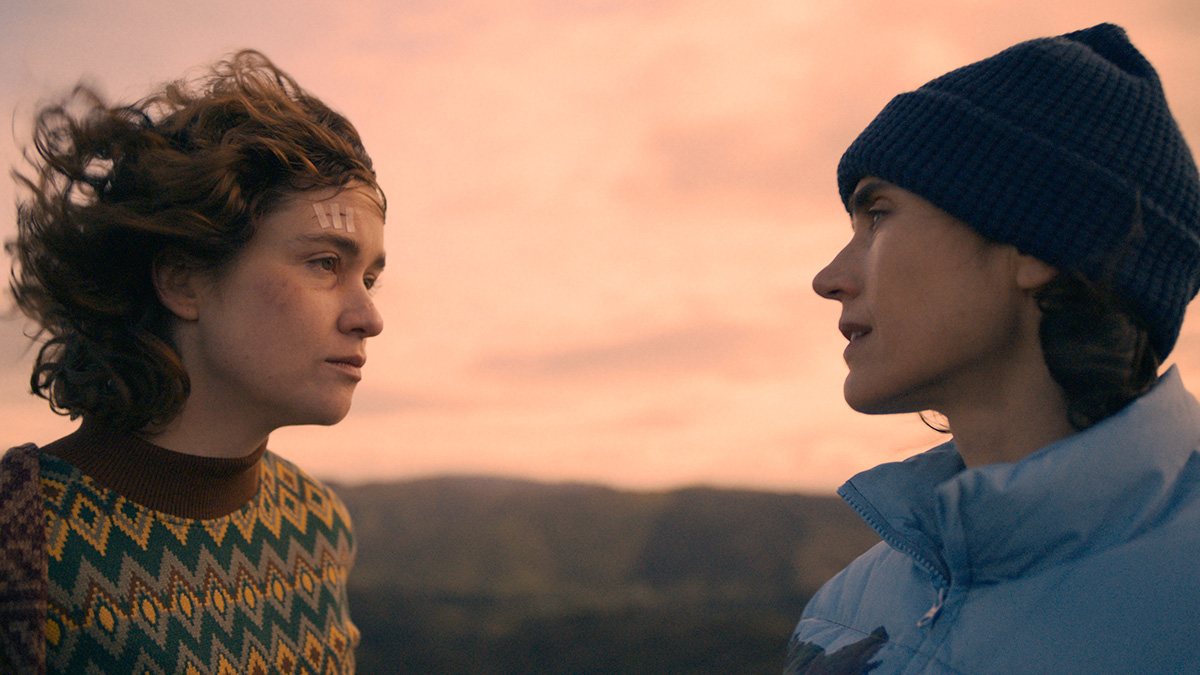 Critics Campus 2023 participant Indigo Bailey speaks to actor turned writer/director Alice Englert about her retreat-set black comedy and how its complicated characters were shaped.
In Bad Behaviour (2023), Alice Englert's debut feature as writer/director, Lucy (Jennifer Connelly) is a former child star trying to transcend the mires of lifelong performance. "Never give in to hope," she writes in wiry cursive on a whiteboard at the periphery of the silent retreat she's just checked into – an eerily tranquil Pacific Northwest paradise named Loveland Ranch, helmed by sweater-vested guru Elon Bello (Ben Whishaw). Pausing mid sentence to peer over her shoulder, Lucy searches the idyllic garden for a witness. Even her antisocial graffiti – an impish gesture of bored refusal – vies to be seen.
"Hope is my favourite kind of confusion," Englert tells me. "It has such a strange, faraway essence to it." There's a strong thread of cynicism in her black comedy, attuned to the absurdities of Elon's enlightenment factory and its visitors' belaboured earnestness, the retreat a setting for "secrets and shames" to be both aired and recorded, for promotional purposes, by an awkward film student. In Englert's film even daylight feels asphyxiating; yet hope is ever present, whether in the dazed, market-driven optimism of wellness culture or in the characters' daily desperation for love, touch and forgiveness. "I feel the implied sense [that the film carries with it is] that hope is okay," says Englert, "but I agree it can also take you to a waiting room, where, maybe, you stay for a long time."
As Lucy tries to reconnect with her stunt performer daughter, Dylan (played by Englert herself), through a series of cloying yet emotionally distant phone calls, her drive towards spiritual unity mutates into spasmodic rage directed at fellow resident Beverly (Dasha Nekrasova). A lissom model and seasoned confessor, Beverly is a stand-in for Lucy's resentments about herself, Dylan and her own mother – a trifecta of sycophancy and self-abasement. While obsession soon burgeons into bloodshed, Englert sees Lucy's story of failed edification as heroic. "I think it's something that feels like it can only happen in a vacuum of purity and appreciation," she says. "A lot of what's really heroic is what happens that doesn't end up anywhere, because it doesn't fit into the narrative. To really do the hero's journey, the result has to be unpromised." In Englert's film, heroism is less a matter of moral certainty than it is a mythic descent from scripted action into emotional chaos. "I wanted to explore a character that has to have a version of themself they can live with – even if it's annoying for other people."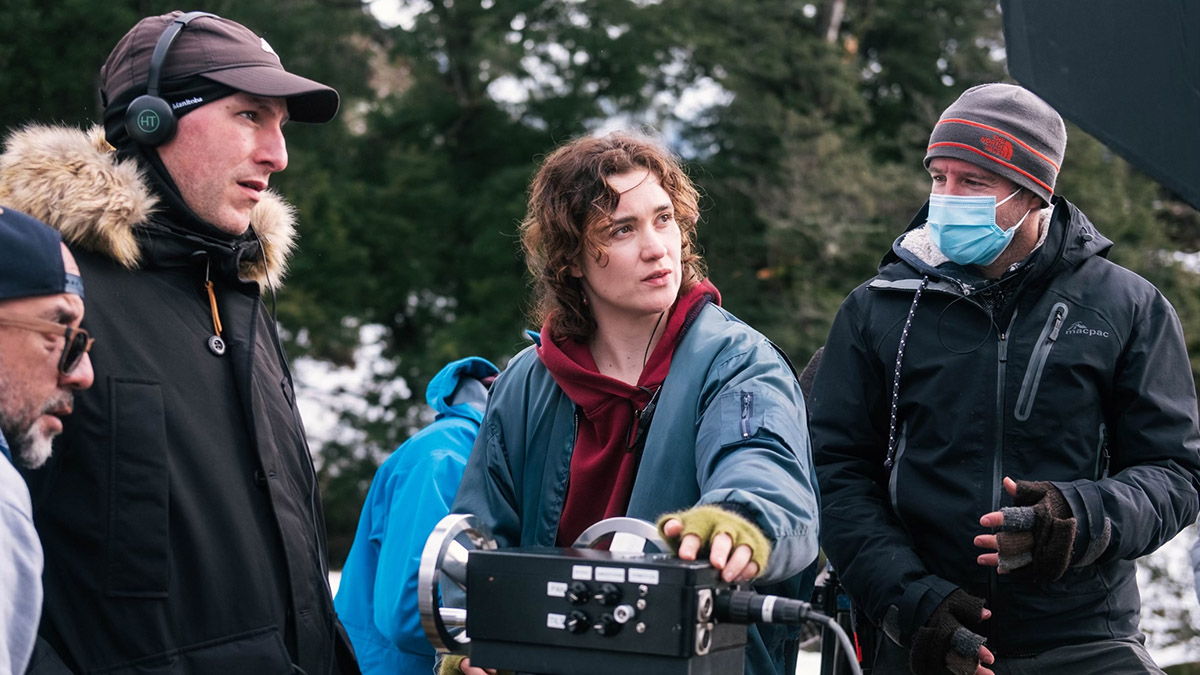 Above: Alice Englert during the shoot | Header: Bad Behaviour

Englert's interest in a warped iconography of heroism comes to the fore in Bad Behaviour's surprising sense of physicality. While Lucy tries, at first, to clench her way into acceptance, Dylan metabolises suffering with muscular verve, whether spinning katanas, forward rolling down her hallway or writhing in a motion-capture suit on the set of the farcical, fantastical B-movie she's filming in a New Zealand forest. Englert embraces the term 'physical comedy', citing as an influence Buster Keaton, the doleful clown of silent cinema, whose movies are intricate visions of snowballing failure. "I think movement for me is the answer, somehow," says Englert, remembering a history of forced stasis. "I had my knees dislocated when I was growing up, so I felt a bit stuck in my body. You couldn't tell from the outside [but] I needed a publicist to literally walk me to the spot, stand me there and then come back for me, because I couldn't walk in heels."
Embodying Dylan was a refreshing shift for Englert, who describes her "creatureness" as a return to the director's childhood fantasies: "pretending to be monsters, demons, gollums … imagining life into things that were just trees, logs, animals". Most recently donning stultifying corsetry as Camille in TV series Dangerous Liaisons, Englert compares Dylan's playfulness to past roles that have made her feel "dressed up for femininity": "There's something about her motion, and how horny and sexless at once that character felt," she reflects. After commencing a balletic seduction of fellow actor Elmore (played magnetically by Marlon Williams), whom she is teaching to safely mime a chokehold, Dylan darts around her room, practising crushing apples with her hands.
Dylan's mutable, ambulatory qualities also resonate with Englert's own hybridised role as the film's writer, director and actor. For Englert, these job titles loop and blur, acting and actors major influences on her approach to storytelling. She always reads aloud as she writes, making sure that the dialogue is not "too elegant", to find out "if you can actually wrap your mouth around the thing". She says that it was important for the cast to spend time "improvising and meditating" together in the lead-up to filming, "allowing people to feel comfortable enough to start going over the line of self-consciousness". Englert attributes the film's character-building in part to her actors' abilities to "find a quirk in the body and follow it" – a statement reflected in Whishaw's performance, characterised by a slightly hunched posture, as if the cultish figure of Elon is drooping under the crush of his own self-mythologisation.
While Englert is intrigued by performance as a potentially shackling force, she's also fascinated by the strangely cosmic freedoms of artifice. In an ecstatic moment in which mother and daughter (for most of the narrative separated by oceans and embitterment) meet in an offbeat dance, Englert arrives at a version of enlightenment – something more akin to the transitory merging of two cars' headlights on the highway. "One thing I like is that Dylan and Lucy share a stunt double," she tells me. "There's a moment where the mum's body and Dylan's body [are] actually the same body – you just don't know when."

Bad Behaviour screened as part of the MIFF 2023 program.
MIFF Critics Campus is presented by VicScreen.